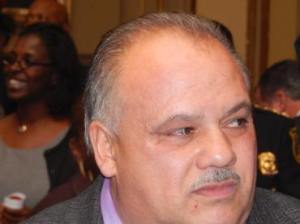 NEWARK – Crisis-mode Mayor Luis Quintana today tried to reverse gears on a city in catastrophic violent freefall.
Newark has hit a pandemic level of violence, including 111 murders last year.
"New Jersey's largest city needs attention," said Quintana, referring to the message he said he delivered the other day in a conversation he had with Gov. Chris Christie.
Flanked by local and county officials, including Essex County Executive Joe DiVincenzo and state Sen. M. Teresa Ruiz (D-29), Quintana appeared in city council chambers inside City Hall.
"The unprecedented levels of violence that have infiltrated our community – we have to talk about what we will do," said Council President Mildred Crump.
Police Director Samuel DeMaio said the Newark Police Department now employs 1,006 police officers.
One-hundred and eighty-seven will be eligible for retirement next year.
The PD is getting 50 ready now, and an additional 50 are undergoing background checks.
"By the end of 2014 we will have 100 new officers," DeMaio said.
Most police officers stay beyond 25 years, the chief clarified.
"We don't anticipate all 187 leaving – we're anticipating a little less than half," he said.