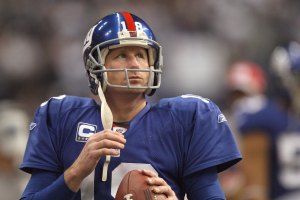 As the Denver Broncos and Seattle Seahawks prepare to compete in the first-ever outdoor, cold-weather Super Bowl, the question on everyone's mind, naturally, is: Who exactly will get into trouble in the days ahead? Will Peyton Manning violate the no-touching rule at the Hustler Club? Will Russell Wilson overdose on Molly at a loft party in Tribeca? Will Richard Sherman get lost…in a mall? (Jersey, baby!)
Since those who don't learn from history are doomed to repeat it, we reached out to a few dudes who've been there before.
"The venue in Arizona was basically perfect for a Super Bowl because it's so spread out," explained former Giants punter Jeff Feagles, who played in Super Bowl XLII, against the New England Patriots. "We stayed quite a ways—a good 45 to 50 minutes—away from the stadium. It kept our team very focused because there weren't a lot of distractions around us."
But what happens when danger lurks inside the hotel?
"We had just come out of Media Day and were going over to the bus to go to practice, when I saw a bunch of ambulances and fire trucks coming into the hotel, which was really like a resort," Mr. Feagles recalled. "I was just like, Wow, I wonder what happened. I hope nobody is seriously hurt or whatever."
As it turned out, the ambulances were for the punter's 10-year-old son Trevor. He had split his eyebrow open while playing football in the hotel room. (It's a dangerous game, folks.) "He was bleeding profusely," said Mr. Feagles.
Former Patriots running back Craig James, who played in Super Bowl XX in New Orleans against the Chicago Bears, also had a hotel headache: he couldn't leave his damn room due to its proximity to the French Quarter.
"From a player's standpoint, we were all bottled up," said Mr. James, whose first NFL tackle came at the hand of Giants great Lawrence Taylor. "You couldn't get away from the vibe. The intensity of the game was on us all week, every day, wherever we went—the hotel lobby, the streets. You were almost in a glass house."
Mr. James remembers catching cabin fever during that time, and believes it's possible that impacted his team's performance on game day. "I guarantee you we couldn't have played any worse," he laughed. "I had that great game—five carries, one yard and one fumble, I think. I could have thrown beads off of balconies and led songs at Pat O'Brien's and still been all right."
Former Giants offensive lineman Brad Benson, meanwhile, had no qualms about making his presence known in Pasadena for the Super Bowl the following season, when the G-men went on to defeat the Denver Broncos, 39-20. "We weren't off the plane 10 minutes and I got pulled over!" he said. "We were having a race to get to a hot nightspot—you know, a local bar—and I decided to go around Jim Burt on the sidewalk.
"The cop was like, Man, didn't take you guys long to get in trouble, did it?"
And of course, Mr. Benson warns, there are the game-day jitters of which to be aware. "Phil Simms was always a pretty straight arrow, you know? Great guy. Family man," he said. "So we had a tradition of riding over to the stadium so we could get taped first. I get to the cab on the day of Super Bowl and there he is sitting with a pair of sunglasses, real cool shades, almost like Bill Murray would have been wearing, and smoking a cigarette in the cab, just blowing circles."
Mr. Benson stared at his teammate. "I'm thinking, we're at the Super Bowl and Simms is having a nervous breakdown before the game," he said. But when he asked the star quarterback if he was all right, Mr. Simms just looked at him and blew another smoke ring. "He says, 'You give me time today, big boy, and I'm gonna rip their ass.'"