Would you spend 45 minutes discussing your deepest insecurities, only to have those insecurities written on your face, then photographed and shared with the world?
That's exactly what the subjects of Steve Rosenfield's "What I Be" series have agreed to do. The California-based photographer, who has been working on the project for two years, was scheduled to bring his photography to Yeshiva University in New York. That is, until school administrators started kvetching.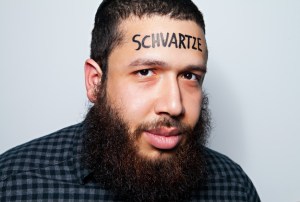 "After close review and much discussion of this event with the student organizers, and taking the sensitivities of all of our students into consideration, we determined that a YU venue would not be able to showcase the project in its entirety," Dr. Chaim Nisell, Yeshiva University's dean of students, said in a statement to New York Daily News. In other words, Yeshiva bailed on the exhibition because they would be unable to adequately censor it. Oi va voi.
Dasha Sominski and Mati Esther Engel, two students who had seen Mr. Rosenfield's exhibition at Princeton and had spent weeks negotiating his arrival at YU, were frustrated at first. But they didn't plotz. They tapped New York's extensive Jewish community for help.
"Everyone came together to make it happen," Mr. Rosenfield told The Observer. He agreed to waive his fee for the project. Yeshiva students and Jewish residents from Crown Heights pooled money to fly the photographer to New York. Once he arrived, they offered their beds, their rugelach and their kindness. Even some goyim pitched in. Thus, "What I Be: Jews of New York" was born.
"We did the shoot in different homes with different people who had no time to even think about it," Mr. Rosenfield said. "I'm so grateful to the Jewish community for hosting me."
 The photographs are striking, to say the least. The most notable feature a woman with the phrase "fat girl in the room" written on her arm and a biracial Chasid with the derogatory Yiddish word for black, "Schvartze," written on his forehead. 
"We actually feel better that the project wasn't displayed through Yeshiva," Ms. Sominski said. "People had so much to say that would have been censored. We felt strongly that the community would benefit this way. Coming in we weren't sure how it would go, but now that it's wrapping up we've gained a new strength."
Ms. Sominski and Ms. Engel insist their perseverance was not about rebelling against Yeshiva, but instead about building compassion and battling stigmas that exist both inside and outside New York's Jewish communities.
"Yeshiva is a complicated place," Ms. Engel said. "They have a lot of different preferences to deal with. That they didn't turn the project down right away was a testament to their willingness to try."