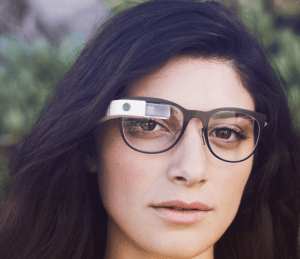 The future is here for the visually impaired. Google announced today that glasses wearers can finally use the $1,500 face computer by clipping them on to specially made prescription lenses with frames created by the company. 
Although Glass hasn't publicly launched yet, Google is selling the frames to Explorers on its website. They cost an extra $225 and come in four BlackBerry-approved titles, including Bold, Curve, Thin and Split. There are also two tinted lens types, but it doesn't appear Transitions is included.
Google chose to build the frames themselves, thus essentially squashing the rumored Warby Parker deal that was floating around last year. Regardless, the titanium frames look durable and fashionable enough because, granted, you're wearing a bite sized-laptop pressed against your eyeballs.
But as the Verge notes, the frames only work for Glassholes since "the right stem is shorter than the left, you won't be able to wear them comfortably on their own." Guess we will have to stick to our bifocals.
The feature has been a long time coming because Google says it's the most requested feature from Explorers. As the New York Times writes, VSP Insurance has already struck a deal to offer subsidize the frames. And the frames have already acted as a panacea for those getting bullied for wearing the devices outside of Google's offices:
"What I've noticed in public is I get less interaction with people" when wearing Glass with frames, said Steve Lee, product management director for Google Glass. "It's something society's more accustomed to."
We're just not sure if everyone is on board with the winking.