This fashion week has been entertaining. First, there was the spectacle of watching fashionistas travel to Brooklyn for Alexander Wang as if they were George Washington crossing the Delaware.
Then, the walls at Opening Ceremony ran with chocolate. Fun fact: the show coincided with a cable rerun of Willy Wonka and the Chocolate Factory. Coincidence? We hope not.
And, of course, there was a streaker channelling his inner Bruno at Prabal Gurung. But the best move so far has been Rodarte'sStar Wars–inspired collection, presented this afternoon, featuring screen printed Luke Skywalker, C–3PO and Yoda skirts. Here are 11 arguments in favor of the kooky collection:
1. Star Wars is a way more interesting runway inspiration than arctic ice formations or tidal changes of the Red Sea or Elizabethan chain mail or what have you.
2. Your brown faux fur jacket is making you look like Chewbacca anyway.
3. Wearing a dress with a screen print of Yoda will only make you look young and healthy by comparison. It's like the opposite of getting a hot pinup girl tattooed on your arm!
4. Ewoks are slimming. Bring one around with you and you'll seem more statuesque than Karlie Kloss.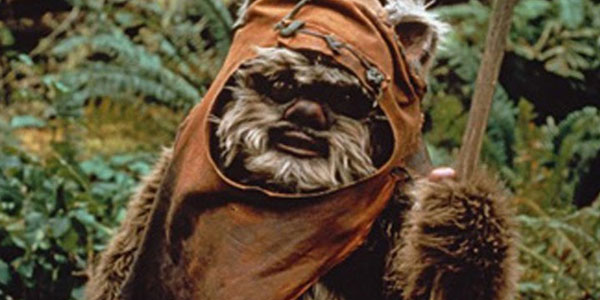 5. It's all quite wedding–friendly. The champagne–toned Luke Skywalker dress is perfect for a second or third marriage, while the pale blue C–3PO number just shrieks "Mother of the Bride."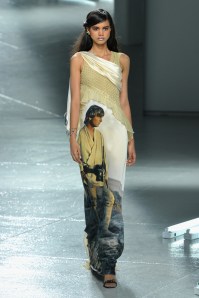 6. Half the models at Thom Browne (pictured below) looked like Jedis in training anyway. The Mulleavy sisters just took it one step further.
7. Betcha $20 the print with Tatooine's moons shows up on an ethereal actress like Dakota Fanning (who attended the show), Olivia Wilde or Evan Rachel Wood.
8. We're not making any promises, but the models at the show today certainly looked hot enough to attract a stud like '70s–era Harrison Ford…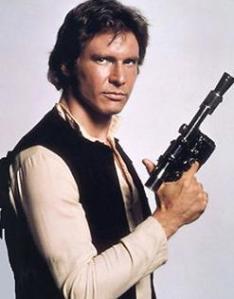 9. Anna Wintour was at the show making this face, which is basically the equivalent of a 50–piece Mos Eisley Cantina band trumpeting approval for the collection. Also, someone's channelling her inner Chewie…
10. Whether you like the dresses or not, they've got to be more flattering than a pair of Leia buns.
11. The designers discreetly left out any and all references to the unfortunate spinoffs added to the Star Wars franchise post–1983. Now that's taste, dahling.