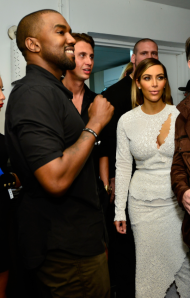 Kim Kardashian and Kanye West are forging a pop culture union so significant, we will not fully comprehend its effects for at least another decade. Yet they allow us, through the former's reality show, periodic glimpses behind their curtain of secrecy (which is made of leather sweatpants). 
Such was the case last night, when Kanye's proposal of marriage was broadcast on the E! network. We all knew it was coming because of the intense media coverage of the actual event last October. That's the weird thing about reality stars who amass followings of paparazzi: their plotlines suffer dearly. But the stars themselves don't seem to mind.
FANCY NANCY
The lead-up to the engagement encompasses two episodes. It starts with the revelation that something is amiss in Kardashia: Kim is acting fancy. A little too fancy. This prompts Khloé and Kourtney to devise a new nickname — Fancy Nancy. They use it to gossip about Kim right in front of her face.
"Kim is being very critical and judgmental," Khloé explains, rationalizing the nickname. "She won't wear a tight whore dress like she used to wear in Miami."
Later in the episode, the jig is up. Kim finds out that Fancy Nancy is a pseudonym for her very self and that her sisters have been talking smack about her right in front of her face.
"It's rude," Kim says. "I'm kind of hurt, you guys."
She gets over it. So how does this relate to the engagement?
KULTURAL KONTEXT
Well, we all know why Kim is really acting fancy: she and Kanye are trying to build a high-meets-low publicity empire. Kanye has been kampaigning tirelessly on his lady's behalf for a Vogue cover. Some people say it's worked, but we'll believe it when we see it. He did get her into Anna Wintour's Met Gala last year, though, after the EIC to end all EICs had reportedly banned her the year before.
Kim, Kanye and the entire brood think reality stars should be taken just as seriously as regular stars are. They have a point. Kim is an incredibly well-dressed famous person who is probably no more morally reprehensible and no less "talented," whatever that actually means, than the Elizabeth Taylors and Marilyn Monroes of yore.
Plus, Kardashian half-sister Kendall Jenner took over Vogue's Instagram account over the weekend. She then sat next to Ms. Wintour front-row at the Topshop show in London. Talk about a Fancy Nancy!
But anyway, back to the engagement. Leaving the Fancy Nancy plotline for dead, a Kanye handler calls Kris to alert her and the rest of the family that they should all report to San Francisco tout de suite and dress in black tie while they're at it.
"I know there's more than what they're telling me, and I'm gonna get to the bottom of it," Kris says in a confessional. "This is so exciting. I love surprising people. She will die."
DECEPTION
One major theme of this episode is deception. There are at least three levels of it going on:
1. Kanye's people are deceiving the Kardashians by withholding the fact that Kanye plans to propose.
2. The Kardashians are deceiving Kim by withholding the fact that there's a giant surprise birthday party being planned for her in San Francisco. They are pretending to be at a spa all weekend?
3. Kim is deceiving everyone by pretending she has no clue what's going on. There's simply no way she doesn't.
ROBERT'S GOING
Still, everyone acts natural, like they're just going to a surprise birthday party that's being held in a baseball field, apropos of nothing. But Khloé, who is "kind of psychic," knows the event is more than just a birthday party from the beginning, mainly because of a single criterion: Rob is invited.
"Robert's going," Khloe says. "If our brother's going, you know that it's big."
KIM ALMOST FINDS OUT
The siblings gather in the dining room to discuss the event. Khloé verbally abuses Kourtney a few times while discussing the plans, then Kim walks in. The scene is ~*not staged.*~
"What are you guys talking about," Kim deadpans, delivering an Oscar-worthy performance as a woman who has no clue, Bible, what these guys are talking about. She leaves and the coast is clear once again.
"Holy shitballs," Khloe remarks. "That was close. Thank god Kim is klueless."
BABY, ONE MORE TIME
New baby North is invoked once during the Fancy Nancy plotline as an excuse for Kim's haughty ways. The child is brought up again while preparations are being made for the proposal.
"Kanye wants to spend my birthday in San Francisco," Kim tells the camera in a confessional, feigning ignorance about the surprises in store for her. "I don't know if I wanna leave North alone for that long, you know?"
And that is the last we hear of little Nori.
IN TRANSIT
On the private jet to San Francisco (necessary), Kourtney ventures, "What if it's a surprise wedding?"
"Shut up," Khloé commands.
A lesser sister yells out that maybe Obama is coming.
"We need to relax and enjoy the moment," Kris says before sliding a partition to hermetically seal herself away from her brood.
THE PROPOSAL 
Kim is almost late because she has the flu or something? It's weird. The whole Kardashian krew kontinues to speculate that the event "has to be something bigger" than just a surprise party.
"We're surprising my sister for her birthday and that's all I know," Kourtney says, clearly protesting too much.
There are lots of people there, including jeweler Lorraine Schwartz and Rap Genius founder Tom Lehman. Virgil Abloh, Kanye's creative righthand man, notes that the rapper has "had this idea since he was a kid," which is sweet. Kris mentions about 9452342 times in confessionals that she knows what's going to happen, as she's been tasked with helping organize the event, although her real responsibility hasn't extended past wrangling her own offspring and making sure the flock of Twitter addicts don't ruin everything in one fell tap.
When everyone assembles in a dusty dugout in the black tie duds Kanye demanded of them, Kris emerges from her gilded chrysalis in full Stage Mom Form. She is shushing people left and right; you half expect her to lick her thumb and smooth someone's cowlick.
"I feel like a kindergarten teacher," she brags.
Kim enters the stadium, and Rob utters his only line in the entire episode: "She's blindfolded."
"Not a word," Kris practically shouts. "Not a word."
Kim and Kanye are not miked when the proposal actually happens, but there are subtitles revealing their exchange:
KANYE: "I just want to know…" [he gets down on one knee]
KIM: "You want to know what?"
KANYE: "If you'll marry me."
KIM: "Of course. I can't believe this is happening."
Kanye smiles hugely and it is actually really cute. Their love chemistry is much more convincing than that of Jay Z and Beyoncé performing at the Grammies, tell ya that much. Afterward, Kanye keeps hugging people and smiling. Kim is chomping some bubble gum.
Someone asks Kanye how it went and he goes, "I forgot what I said," cutely smiling and nodding to a family member.
The highlight of the episode is when "Black Skinhead" starts playing and Kris jumps up and down in her black and gold column dress along with her children. In a confessional, Kris says she is thrilled to have "organized this with Kanye," which is a pretty big leap from the terse "get dressed and get to SF omg wtf is happening" phone call that occurred just a few commercial breaks ago.
Kris makes a cute speech about Kim and Kanye being "the two greatest roommates a girl ever had." Khloé then seizes the mic and goes, "Kanye, I am obsessed with you. Let's have more kids. More babies." Kim's face remains expressionless while Kanye laughs his head off.
Then, everyone heads home and Kardashian grandchild Mason runs around his mom's giant walk in closet screaming "Tits McGee!" for a few minutes.
OTHER
• Kim's first husband, Damon Harris, and her second husband, Kris Humphries, have both been scrubbed from the Kardashians' kollective memory. She married one in Vegas and the other on TV after like three minutes of knowing him. Neither ended well, although both did occur, which you wouldn't know from watching this season of Keeping Up With The Kardashians.
• Kourtney and Khloé find a handwritten letter from O.J. Simpson to their late dad Robert Kardashian, who as we all know was his friend and trial lawyer. "Should I instagram that?" Khloé says.
• Kourtney's boyfriend/baby daddy Scott Disick is going through a really hard time, trying to stay strong while his mother is on her death bed. It's sad all around.
• Bruce Jenner made a cameo but didn't attend the proposal itself. "Not even you did it that big," Kris gloats, which is extremely awkward because they're separated now! Jeez, Kris.
WHAT NOW?
Today, new rumors are swirling that Kim and Kanye will be getting married 1. in May and 2. with crowns on their heads. We hope both are true, but most of all we hope the nuptials are televised. A live broadcast would be great, since this whole four month editing delay can really mess with a viewer's emotions, not to mention our attention spans.