It is possible to spend decades working in Hollywood, grow wealthy from the proceeds of appearances on stage and screen, and to garner plaudits from televised awards shows without ever becoming a "star," in the traditional sense of the word. Armand Assante has had such a career. If you passed him on the street, you might know his face, but unless you are a great reader of TV Guide,  you'd probably be unable to place him. A hardworking actor, Mr. Assante has been known to take on five, six, and even seven films in a single year—secondary parts in American Gangster and Judge Dredd, and as the man himself in the 1996 TV movie Gotti. (He assumed a decidedly different titular role in 2007's When Nietzsche Wept.) It has been a public, prosperous and yet somehow anonymous sort of life, which seems to be how Mr. Assante likes it. But as Nietzsche might have advised him, all good things must come to an end.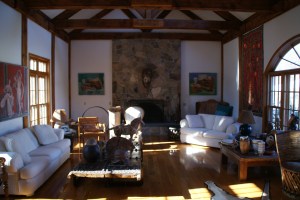 Under pressure from an ex-wife who has claimed that he owes her as much as $1.8 million, and from a bank whose loan he has failed to repay, Mr. Assante has lately entered into bankruptcy proceedings—his second of recent years—and his 222 acres of upstate real estate are up for grabs. Sad as this is for the actor, it may nonetheless be good news for would-be organic farmers, Bed and Breakfast owners and/or leisure ranchers in the market for suitable property, Matthew Bordwin recently told us. A co-president of GA Keen Realty Advisors, which is handling the May auction of the property, Mr. Bordwin said that he expects bidding to start in the mid-$3 million range for a spread that he called unusual for its size and proximity to New York City.
Set on a secluded and scenic rural sprawl in Campbell Hall, about an hour's drive from Manhattan, Mr. Assante's estate features more than 7,000 square feet of rustic-luxe accommodations. "The Hamptons are great," Mr. Bordwin said. "But this offers a very different kind of experience." And should bearded refugees from lucrative tech start-ups arrive from Brooklyn with visions of kale and quinoa in their heads, they need not tear down the farmhouse-style structures that currently occupy the property to realize farming fantasies. "The house is very large, but in the context of the property as a whole, it's really not taking up very much space."
In 2012, Four Square Development offered $2.25 million for a portion of the land, which they intended to divide into some 40 two-acre lots for luxury residential models with names like "the Villa Venezia" and "the Bellezza Toscana," and a listing for the coming auction ominously suggests "endless redevelopment possibilities." Organic farming risks groans and eye rolls these days, but compared to a tract of McMansions—the residents of which would no-doubt delight in their proximity to the Woodbury Commons outlet mall—handcrafted ewe's cheese and free-range eggs look like mighty attractive neighborly alternatives. Were we citizens of Campbell Hall, we'd do our best to seduce a buyer with no interest in subdividing, however strange his hobbies. No harm ever came to them, after all, as a result of living down the road from a man who once played Lieutenant Al Garcia in Striptease.