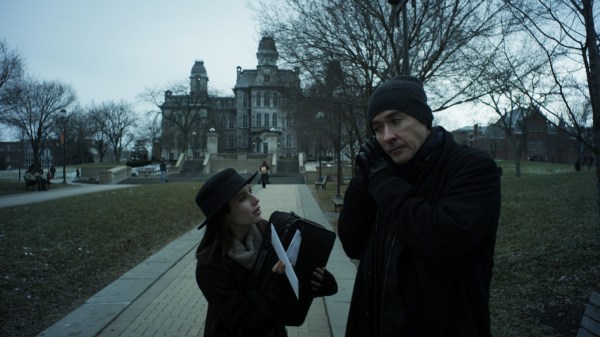 Incompetently directed by Scott Coffey and weakly written by Andrew Cochran, a rotten egg called Adult World is anything but. This is the kind of cheesy, sketched-out idea for prurient adolescents that gives indie-prods a bad reputation. It seems to be an offbeat take on a loser's desperation to be famous, but you can't prove it by me.
---

Adult World ★
(1/4 stars)

Written by: Andy Cochran
Directed by: Scott Coffey
Starring: John Cusack, Emma Roberts and Armando Riesco
Running time: 97 min.

---

 
It begins with Amy (Emma Roberts, Eric's daughter and niece of Julia) trying to commit suicide, but she can't work the oven, and the paper bag around her head won't inflate. Rewind to one year earlier. Amy is a post-grad dreaming of an implausible career writing poetry. She lives at home in a dull suburban town in upstate New York, with middle-class parents who finally draw the line and refuse to support her. Too young and inexperienced to tackle the pitfalls of New York City publishing but still desperate to earn enough money to subsidize her writing until she can win the Pulitzer Prize, Amy runs away to a dreary city nearby and takes a job at Adult World, the local mom-and-pop sex shop owned by a sweet elderly couple and staffed by a nice, nondescript boy named Alex (Evan Peters) and a flamboyant transvestite named Rubio (Armando Riesco). Before you can say "deep throat," Amy is selling porno flicks, dildos and lubricants to a bizarre clientele filed according to age, gender, race, fetish and sexual preference. I guess it's a good way to meet your neighbors.
Fed up with being labeled immature, Amy moves in with the pot-smoking drag queen who helps her stalk her favorite living poet, a weird, drunken recluse named Rat Billings (John Cusack, who has no aptitude for comedy), applying for the position of protégé ("I haven't heard that word sober, with my pants on, for a long time"), but settles for scrubbing his kitchen sink and running his vacuum cleaner instead. He pays her in "mentorship." Eventually, Amy takes the plunge and offers this scruffy reprobate her virginity. "I want you to deflower me," she pleads, throwing herself on his sofa. "I want to be picked like an exotic flower! Do it to me good!" It is around here that Adult World plummets from pointless mistake to reeking of a strong odor of amateurism. It never recovers. By the time it works up to the opening scene, it is clear that Amy can't even manage her own suicide with success. She should take lessons from Natalie Wood's hilarious botched suicide scene in Inside Daisy Clover.
Cloris Leachman, Reed Birney and John Cullum are just three of the unlucky victims trapped in this bummer. They don't seem to know what they're doing there besides dressing up the scenery, but they all seem to agree that the point of the film is: If poetry doesn't work, there's always porn. By the time this horror ends, I could have used some myself.