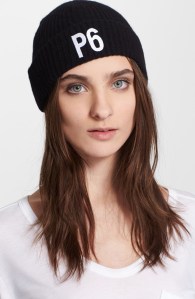 Hat's off to Alexander Wang.
As part of a campaign against Russia's anti-gay laws, Mr. Wang has designed a new cashmere beanie.
You won't want to take this one off though. It's priced at $125.
P6, the two letters on the designer beanie, stand for the Principle 6 campaign. The goal of the campaign is to encourage athletes, spectators and global supporters to unite against discrimination without directly infringing on the Olympic ban on political speech or breaking any Russian laws.
Principle 6 is the International Olympic Committee's charter that prohibits discrimination based on "race, religion, politics, gender or otherwise."
Brian Ellner, a founding board member of Athlete Ally, the organization behind the P6 initiative, said that the hat provides a way for Olympic athletes to show their support for LGBT Russians at the games, without breaking other rules in the charter.
"By wearing the beanies, athletes can express their solidarity with the cause without violating Russia's anti-gay laws or the IOC's prohibition against political expression," Mr. Ellner told The Observer. Athlete Ally currently lists over 50 current and former Olympic supporters (some participating in the Winter Olympics at Sochi) including basketball players Steve Nash and Teresa Edwards, tennis star Andy Roddick, snowboarder Seth Wescott, 5-time gold medalist Greg Louganis, luge racer and flag bearer at the Lillehammer Games Cameron Myler, paralympian Sharon Kelleher and openly gay tennis legend Martina Navratilova.
On the fashion front, the P6 beanie has already popped up on the heads of early-adopting fashion folk like model Constance Jablonski.  
The beanie is part of a large fashion closet representing political statements. This one, however, is definitely pricier than other do-good apparel like Gap's Red t-shirts ($20) benefiting AIDS research, Lauren Bush's Feed Bags ($80) in support of UN feeding programs, Ralph Lauren and the CFDA's Fashion Targets Breast Cancer t-shirts ($35) or even American Apparel's own P6 line, which incidentally has its own beanie—for $22, albeit in acrylic.
But pout not, proceeds of the hat—available at Nordstrom, Bergdorf Goodman, Moda Operandi, Jeffrey, Fivestory and Alexander Wang's New York flagship—will go to fund the campaign and LGBT groups—so you can dedicate yourself to causes nobler than the commitment to cashmere.
[protected-iframe id="202a82ee67536606a88766fb0bba8154-35584880-41847290″ info="//instagram.com/p/j1xhiomp90/embed/" width="612″ height="710″ frameborder="0″ scrolling="no"]