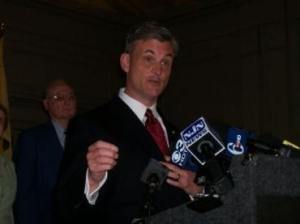 A source intimately connected to South Jersey politics this morning told PolitickerNJ.com that state Sen. Donald Norcross (D-5) is the leading candidate among the ranks of the South Jersey Democratic machine to replace outgoing U.S. Rep. Rob Andrews (D-1).
Other names float in the vicinity of Andrews' seat, Assembly Majority Leader Lou Greenwald (D-6) among them.
But Norcross makes sense from a power persuasion standpoint, as South Jersey prepares to launch Senate President Steve Sweeney (D-3) into the governor's chair and anticipates recalibrating leadership in the Legislature.
While the south would prefer to hold onto the Senate presidency in perpetuity, Sweeney consolidating power as governor would require North Jersey support.
If Norcross goes to Congress to succeed Andrews, Sweeney ally Essex County Executive Joe DiVincenzo will want to make sure that state Sen. M. Teresa Ruiz (D-29), Newark, succeeds Sweeney.
If he stands down from the vacant congressional seat in deference to Norcross, Greenwald stands poised to become speaker of the Assembly, relieving Speaker Vincent Prieto (D-32), who presumably would prevail on U.S. Rep. Albio Sires (D-8) to serve as the next congressman.
If Ruiz fails to secure the Senate presidency, and Essex loses to Bergen – state Sen. Paul Sarlo (D-36) – she would also be in play for Sires' seat.
But Jersey City sources said that any successor to Sires would have to come out of the city.
"That's a Jersey City congressional seat," a source said.