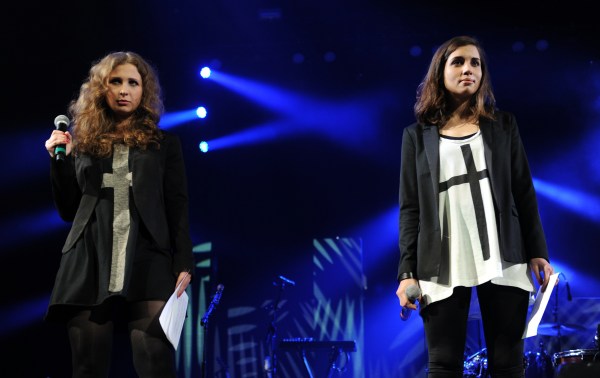 About three hours into Amnesty International's expansive 5-hour concert for human rights last night at Barclays Center in Brooklyn, two former members of the Russian punk band Pussy Riot took the stage, introduced by Madonna. 
"I'd like to thank Pussy Riot for making the word 'pussy' a sayable word in my household," Madonna, who has two adopted children, said irreverently. "Thanks for messing up my shit."
Nadezhda Tolokonnikova and Maria Alyokhina, the two young women who were transformed into political activists when they served 21 months of a two-year sentence in separate Russian penal colonies for staging a protest against Vladimir V. Putin in a Moscow cathedral two years ago, were released from jail in December. They have been on an international tour since then, promoting political freedom around the world.
It was their first visit to the United States, and the air of anticipation in the arena was palpable as they stood before a packed house for the event, dubbed "Bringing Human Rights Home," one in a long line of Amnesty International concerts that have featured Bono and Lou Reed.
"We will not forgive and not forget what Russia is doing to its citizens," Ms. Tolokonnikova said emphatically through a translator, who stood on stage beside her. 
They read aloud the court statements of anti-Putin protesters who are currently in jail, demanding freedom for all political prisoners, which felt especially relevant in light of the Olympic games in Sochi. And they led the audience in a communal chant: "Russia will be free!" the two women shouted in English.
It came as a slight disappointment that they didn't play any music, which might have leavened their appearance with a bit of punk rock power.
But speculation was in the air as to whether Pussy Riot is even still a band, and it remained an open question yesterday. At a press conference before the concert, the young musicians said they had come to the United States not to represent Pussy Riot but themselves as individuals.
"Anybody can be Pussy Riot," Ms. Alyokhina said. "You just have to put on a mask and stage an act of protest."
The concert on Wednesday night felt alternately like an act of protest and a commercial mega concert. It had a choppy, slightly schizophrenic air, vacillating, often distractingly, between those two poles as activists and musicians took the stage.
The concert featured a wide range of rock groups, including Cold War Kids, The Fray, Blondie, Cake, Imagine Dragons and the Flaming Lips, which performed one song with Yoko Ono and closed out the night. ("We're gonna make it!" Ms. Ono screamed over and over again, modulating her weird and loopy voice like a theremin. "Ahhhhhh!") 
Celebrities like Susan Sarandon, the night's de facto emcee, also put in appearances. "I'm going to get to say Pussy Riot a lot tonight," Ms. Sarandon said. "I'm very happy about it."
Those supported by Amnesty International, including Kianoosh Sanjari, the Iranian dissident, and Kerry Max Cook, who, wrongly convicted of rape and murder, spent 22 years on death row in Texas, also addressed the audience.
"For those of you out there who say, 'I'm only one person, it won't make a difference,'" Mr. Cook said in a moving speech: "No."
Yet the most affecting moments of the night came when those on stage were not asking the audience for something—to support human rights, to be politically active, to write a protest letter—but giving the people what they had all most likely come to see: live music.
About two-thirds of the way through the concert, Imagine Dragons played its Grammy-nominated song "Radioactive," a perfect arena anthem, conducive to chanting, loud, powerful. The musicians started out quietly and then brought the tune up with a dense, throbbing tangle of percussion, banging heavily on an array of drums scattered about the stage and then slamming back into the chorus and ending. 
"Thank you so much," said Dan Reynolds, the band's front man, as he left the stage. "Stand up for human rights!"
His appeal barely registered above the applause.