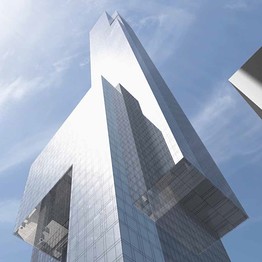 At a meeting last night, members of the Art Students League approved Extell's controversial plan to cantilever a 1,424-foot skyscraper above the school's landmarked French Renaissance building on W. 57th Street. The Smith + Gordon Gill-designed tower, to rise at 217 West 57th Street, has now cleared the final roadblock needed to move forward with construction.
The deal, which will net the Art Students League $31.8 million, passed by a wide margin, with 227 members voting "no" on the plan and 1,342 members voting "yes," according to Art Students League spokesman Ken Park.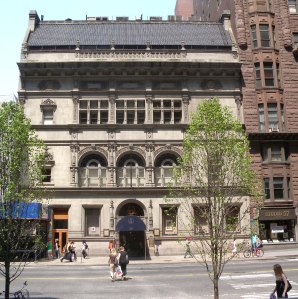 In the weeks leading up to the vote, two opposition groups spoke out against the plan, calling, at the very least, for the vote to be delayed, to allow for more investigation into whether the League was getting a fair price (there are few similar deals to compare to) and to research possible construction contingencies. But Extell imposed a hard deadline, telling the League that if the deal was not approved by Wednesday, it would walk away and build without the cantilever.
"Extell would just create a new plan without a cantilever," a spokesman told The Observer, citing the large site.
The cantilever, which was approved by the Landmarks Preservation Commission last fall, will project out over the Art Students League at 290 feet, a height that the Landmarks Commission ruled would have minimal  impact on the League, and would not be visible from many vantage points, although many preservationist argued that a landmark included the "non-occluded sky" above it.
The need for the cantilever is not entirely clear. Though Extell had presented it as necessary for Nordstrom during the approval process, claiming that the department store, which will occupy the first five floors of the tower, required a column-free space, Nordstrom later told The Observer that "ultimately, it was a design issue for the floors above us."
As of November, Extell had yet to secure financing, though it has already started excavating the site in preparation for construction.