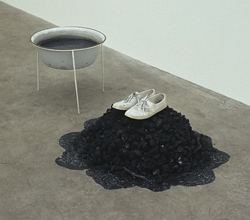 In today's paper Daniel Grant takes a look at the Artist Pension Trust, which offers artists pension payouts later in their career in exchange for giving APT a number of artworks earlier on, which are eventually sold. It's a unique model and and not entirely uncontroversial, since it so nakedly converts artworks into assets and very well may not work. (Artists pocket 40 percent of the eventual sale of their works, 32 percent goes to a pool benefiting all APT artists, and the trust and its investors takes the remainder.) It has attracted a number of top-flight artists and one mind-blowing (partially fictionalized) essay by Walid Raad.
Today APT announced that its APT Institute, a nonprofit offshoot, has started what it's calling "the first and only fully-automated online artwork lending program" to help put more than 10,000 of the works it owns into circulation. It's not actually fully automated, more like Netflix for "grant curators, art professionals and art researchers," in that you fill out your form and they send it to you.
APT's entire collection numbers more than 40,000 works from 2,000 artists. The institute is also launching a program it dubs Art Concierge, which aims to bring together curators and APT artists on collaborative projects.
"We believe that artworks should be displayed in exhibitions in order to promote artists' international exposure," Moti Shniberg, the co-founder and chairman of APT, said in a statement, "and we encourage personal relationships between our community and the art world to boost creative collaboration."
APT has loaned hundreds of works to museum exhibitions, and this semi-automated system seems to be a way to take it to the next level. But since these works are contractually slated to be sold off eventually, rather than donated to a museum (a committee decides the timing of sales, which are done privately), museums are effectively helping the APT boost the value of its works, with no real hope of receiving them as donations. That said, since a major chunk of sales goes to benefit artists, maybe that is okay? Lots of tricky questions here.