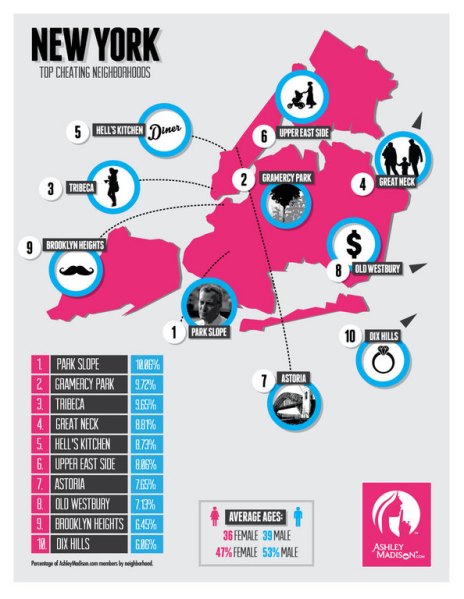 AshleyMadison.com, a website that helps arrange affairs, has released a list of New York neighborhoods for the unfaithful that happens to feature a certain New York City Mayor.
In their map illustrating the top 10 neighborhoods for it's members, Park Slope, apparently the most affair-laden location, is represented by photo Mayor Bill de Blasio. Do they know something we don't?
"That's where his hometown is and he's a public figure," Paul Keable, Ashley Madison vice president of communications, told The Observer. "All we're representing is that that's the neighborhood he comes from."
The site, which claims to have a membership of 840,300 New Yorkers, reveals that 10 percent of its members are from Park Slope, Mr. de Blasio's neck of the woods. The liberal Brooklyn haven was followed by Gramercy Park with 9.7 percent and Tribeca with 9.6 percent.
Other neighborhoods where many residents seem to be craving a taste of the polygamist life include Great Neck (AshleyMadison's top Long Island community when it comes to cheating) with 8.8 percent, followed by Hell's Kitchen (8.7 percent) and the Upper East Side (8 percent).
They also broke their information out further to show the average age of female members, 36, and male members, 39, and shared the news that 47 percent of their members are female and 53 percent are male.
The company often puts personalities on its advertisements, whether or not those people consent. For President's Day, the company released a billboard featuring Presidents Franklin D. Roosevelt, John F. Kennedy and Bill Clinton.
When we pressed the spox for info as to whether Mr. de Blasio was a member of the notorious site, Mr. Keable stayed mum.
"Obviously, our membership anonymity is sacred," he said. "That's the value of an affair."
The Observer has yet to receive comment on the map from the mayor's office, but something tells us it's going to be his wife, Chirlane McCray's response that takes the cake.