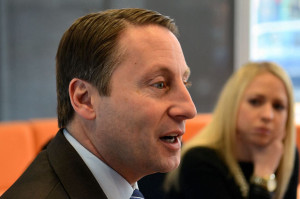 One of Gov. Andrew Cuomo's likely Republican challengers started bashing the incumbent's education agenda today, providing yet another indication his unannounced campaign is taking form.
While Mayor Bill de Blasio is pushing Mr. Cuomo to allowed the city to hike taxes on the wealthy to fund universal pre-K, the likely challenger, Westchester County Executive Rob Astorino, went on the air Wednesday morning to condemn Mr. Cuomo's education plan altogether.
In an appearance on WCNY's The Capitol Pressroom, Mr. Astorino criticized Mr. Cuomo's plans for expanded pre-K and continued support for Common Core standards, which he claimed is "completely underfunded."
"It is impossible to do and it would devastate schools," he said of the pre-K push.
The Westchester Republican's attack on the centerpiece of Mr. Cuomo's education agenda comes at a particularly critical hour for the governor. Mr. Cuomo is currently in a standoff with the state legislature over the implementation of Common Core in the state's schools. State lawmakers are pushing to delay the plan's execution but Mr. Cuomo, torn between abandoning his previous goals and angering parents and the teachers' unions, has yet to rule on the moratorium.
Mr. Cuomo is also locked in a debate with Mr. de Blasio on whether the city's pre-K program should be funded through taxes on the wealthy of the state simply providing an alternative funding stream.
Mr. Astorino, meanwhile, advocated not just for a moratorium, but for a total overhaul of the program. "The Common Core has been a disaster and will be a disaster and we need a complete reboot," he said, citing claims that the new curriculum forces teachers to sped all their time focused on state test material. "You can't teach to a test when you haven't seen the material or you're not familiar with the material."
As for the much-discussed pre-K expansion, Mr. Astorino said he believes any new money should be directed back into the state's elementary schools instead. "Why are we doing pre-K when we don't even have K yet?" he asked, arguing that some New York school districts lack kindergarten entirely or only require students to attend half-day.
Mr. Astorino, who is currently mulling a run for governor, also gave signs today that the campaign is already underway. "As governor I would work with whoever the leaders are," Mr. Astorino said at one point, sounding very much the candidate.
Reached for comment, Mr. Cuomo's office defended his agenda.
"The Governor believes that we need to set real standards for our students and have a meaningful teacher evaluation system, and continues to support the Common Core agenda," Mr. Cuomo's Communications Director Melissa DeRosa said in a statement.