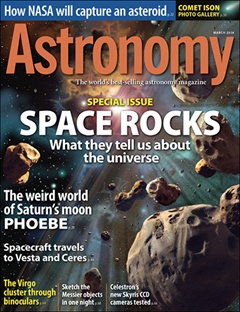 Turns out, there is a whole big universe out there, although that simple, staggering fact can be easy to forget when you are caught up in the minuscule New York media whirl.
We were reminded of that when our monthly copy of Astronomy magazine arrived once again, standing out alongside the usual February mix of spring fashion and Oscar talk. Much like human life itself, it seems Off the Record is not alone in receiving a monthly dose of the cosmos, as we discovered while chatting with other reporters on the self-obsessed media beat.
Compared to the usual slew of think pieces and celebrity profiles, Astronomy seems positively … alien. Space may be vast, but it's still hard to imagine a world where nobody is writing about Lena Dunham. No celebri-nauts on the cover? There are no Kardashians, but there is an article about "The Biggest Asteroids."
Astronomy, which bills itself as "the world's best-selling astronomy magazine," is part of the Wisconsin-based Kalmbach Publishing Company, which is also responsible for Classic Toy Trains and Bead & Button. Last September, the magazine hired a P.R. firm to help lift it out of hobbytown. 
"Our goal is to get Astronomy top of mind when producers are looking for someone to comment on the latest celestial happenings," said Shawna Seldon, S.V.P. of the Rosen Group, the public relations firm tasked with shooting Astronomy into the mainstream. 
This is how we found ourselves reading a review of Celestron's Skyris, a planetary imager with good sensitivity and a surprisingly lightweight package.
To be sure, space is having a media moment. On March 9, Neil deGrasse Tyson, the telegenic director of the Hayden Planetarium, will begin hosting new episodes of Cosmos on Fox. (You may recall that the Carl Sagan-hosted version of the beloved science show ran on PBS.) Mr. Tyson regularly appears on Comedy Central and is a popular social media presence. (He has an astronomical 1.65 million Twitter followers.) 
But whether the show can sprinkle its cosmic dust on Astronomy remains to be seen. 
"That doesn't always translate into business results for a print magazine publisher. Shit, what can I say about that? It's tough out there," said Kalmbach Publisher Kevin P. Keefe, sounding like his New York peers. "We are optimistic about the future down the road simply because we're only scratching the surface of the incredible, really amazing things we're going to be finding out in the next few years, few decades about the universe."
There was a lot of excitement about last summer about Comet ISON, which generated traffic and links in the mainstream news for Astronomy. But the comet was declared (tragically) lost by NASA after it flew too close to the sun over Thanksgiving weekend, which was a big disappointment for scientists and science writers alike. 
Space, like the media business, is hard to predict.
"This culture is just so caught up in, excuse me, just crap," Mr. Keefe said. "There's just so much time and energy we spend on it, and we're really trying to get the point across that astronomy is not just science—it's a very interesting field."
Plus, it's always nice to be reminded that there is life beyond New York.