Mathilde Thomas spends a lot of time in her bathroom. She has to. As the founder of Caudalie, the French skin care company whose products are based on the healing properties of grapes, Ms. Thomas labors for hours on end in her lavatory, staring into a mirror and tinkering with a varied assortment of creams, cleansers and moisturizers. But the moment she enters her living room, she's met with a stunning, panoramic view, the Queensboro Bridge and the Williamsburg Savings Bank Tower visible in the distance.
Ms. Thomas has come a long way from the vineyard she grew up on in Bordeaux. She moved from Paris, where Caudalie is headquartered, to New York in 2010, and her signature vinotherapie spas are scattered around the world, in such countries as Spain, Portugal and Turkey. She lives high up in an ultramodern luxury apartment, on First Avenue, with her husband and business partner, Bertrand, and three children. The apartment is bright, cheery and colorful, which is just how Ms. Thomas likes it.
How would you say French homes most differ from American homes?
What's different is that in France you have a lot of very old buildings; here what you consider old is very new for us. That's why we bought something super new, because I thought that the old was not old enough.
We do have a lot of supermodern buildings to choose from. How did you settle on this apartment?
We knew we wanted to be on the Upper East Side, because the French lycée where my kids go is there, we have a spa at the Plaza Hotel, and when we arrived, our office was on 53rd and Second. We also bike in the city. We have folding bikes. I bike with heels.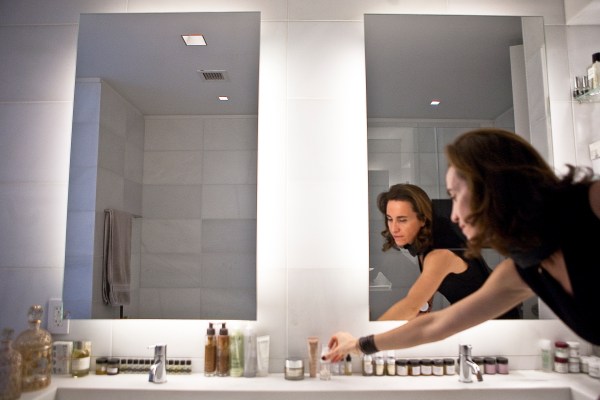 Is it fair to say that your bathroom is your laboratory?
Oui, every single product that I launch I have used many, many times before it's the final recipe. Each week, I receive a package with lab samples, and I try them all on my face in the bathroom.
So the product always goes on your face first?
Always, like 200 times.
Do you have a specific diet regimen? There's a lot of food that's supposed to be good for your skin. Are you strict about that?
Yes, of course, especially in the U.S., where I think you can gain weight very easily. Food is a big topic for French people. We want the best of everything, so I know now that I can buy the best cheese on Bleecker Street, at Murray's. I've tried all the cheese of New York, and this one is the best. And Citarella is good. For the meat, there is this incredible website, Lobel's, which has the best meat in the city. I'm disappointed by fruits and vegetables here in New York; I'd rather buy them outside the city, in Long Island or in the Hudson River Valley.
You must have an estimable wine collection. I know you grew up on a vineyard in Bordeaux, and your skin care line was borne from grape ingredients. Do you stick to specific brands? 
Well, on the wine, we're a little bit monomaniacal. We only have wine from my family vineyard. It sells at Sherry-Lehmann, on Park Avenue, and it's in good restaurants. You can find it in liquor stores, too, especially Le Petit Haut Lafitte, which has a better price than Château Smith Haut Lafitte, which was given 100 points by Robert Parker, so it's super expensive.
Tell me about some of the items you care most about in the apartment. 
I love lamps. This one was made by a German named Ingo Maurer, who has a showroom in Soho, and this one is by the architect Noguchi, who designed popular paper lamps; he has a great museum right across the bridge in Queens. I love my miniature Frank Gehry chair collection, too. It's a gift from our wedding, from the architect who we've been working with all our lives, Yves Collett, the one who designed all the spas we have in the world. What else do I like? My model boat! I bought it for my husband for his 40th birthday, when we were still living Paris; we brought the boat with us to New York. It's called the Mauritania, and it only crossed the Atlantic Ocean once in real life.