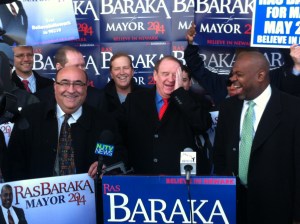 NEWARK – Former Governor and current State Senator Richard Codey (D-27) endorsed Newark mayoral candidate and South Ward Councilman Ras Baraka at a rally in front of one of the Seabra's supermarkets in the city's Ironbound neighborhood.
"I believe in Newark, and I believe in Ras," said Codey before a small but boisterous group of Baraka supporters on a frigid Thursday afternoon in front of Seabra's Supermarket on Lafayette Street, as forklifts carrying fruits and vegetables zoomed by.
Codey quoted statistics he claimed showed improvement at Central High School, where Baraka has taken a leave of absence as principal, as part of his reasons for backing Baraka.
"Tell me if I'm wrong now, councilman – you went from a 50 percent graduation rate to 80 percent?" Codey said. "When you can do that, it tells us a lot about this man.
"Of all of the candidates, what person in this city can get down on the streets and talk to the people that we need to talk to?" Codey, whose 27th Legislative District included parts of the City of Newark, before the 2011 legislative redistricting, added. "Ras Baraka is about doing something about crime in this city that helps helps the county, that helps the state. As we all know, at one point he negotiated a gang truce [in 2004] as a deputy mayor. Think what he could do as your mayor.
"There are these power brokers out there who are going to tell you what to do. [Baraka] is independent," Codey continued. "We all want somebody who is independent, and he's that candidate. In this time in Newark's history, this young man is the best candidate for the City of Newark, and that's why I'm endorsing him today."
"The governor talks about me being independent, but I think that he's incredibly independent," Baraka said. "Most of the issues that [Codey] fights for in the state are issues surrounding working people, poor people, people who are struggling, people who are on disability, things that affect us right here in the City of Newark. Any day I
would stand with him."
The endorsement rally took a more overtly political turn when Codey was asked by the press if his endorsement of Baraka was a way to wage a proxy war with Essex County Joseph DiVincenzo. DiVincenzo, a Democrat, endorsed Newark mayoral candidate and North Ward Councilman Anibal Ramos, Jr. in May.
"I don't know if he endorsed anybody. He said, and I quote, "I just want to win." It didn't matter [who was] the candidate. It is what it is."
"Everyone that's here has to become a believer in Anibal Ramos because I support him 150 percent," said DiVincenzo at the May rally, as previously reported by PolitickerNJ.com.
"I'm happy [Codey] is here with us, and not over there," Baraka added, smiling after Codey praised his wearing of a green "Irish tie."
Baraka was asked by PolitickerNJ.com why he chose to have the Codey endorsement rally in the Ironbound, a largely Portuguese and Spanish-speaking immigrant neighborhood considered by Newark political observers to be a more likely base of support for Ramos, a Latino.
"When you're the mayor, you're the mayor of the entire city," Baraka said. "We have to get rid of this kind of ward politics that uplifts political bosses and not the people of our community. We just happen to be in the Ironbound today."
Americo Seabra, one of the Portuguese-born owners of the Seabra's supermarket chain, explained why he also endorsed Baraka.
"I've sat with him many, many times, and he's real," Seabra said. "This city needs someone who is going to be there for us, not someone who is going to use us as a trampoline, as other people have used us in the past. I moved here during the years of the riots [of 1967], and we've never left. We're here together."