Last summer, we learned that Facebook (META)'s NYC team would be leaving its Madison Ave. office for a Frank Gehry-designed space in Astor Place's 770 Broadway building. Guess what? Moving day is finally here.
Though the construction is still underway, Facebook employees today began conducting business in the new office, an email announcement said. Housed in the same building as other media companies like AOL, Adweek, Backstage and Billboard, Facebook NY will officially open its doors later this spring, when the renovation is totally complete. They'll also apparently be hiring a bunch more engineers.
"Today, Facebook New York begins our first day of business at our new offices at 770 Broadway," Serkan Piantino, Site Director at Facebook New York, wrote in a blog post. "We're excited to join the Astor Place neighborhood and continue to invest in the great tech community here. Finding this space took months of searching and design, and even now it's still being built around us. We have plenty of work ahead as we continue to grow."
Speaking of design work, we wonder if Mr. Gehry will get stock options like that guy who graffiti'd Facebook's old Palo Alto offices.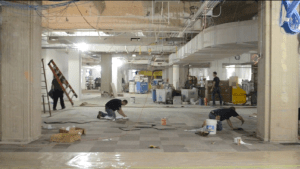 We understand that Facebook's NYC employees might be overwhelmed by the new location, which puts them frighteningly close to St. Marks and also surrounds them with hordes of artsy, Think Coffee-toting NYU students.
If any Facebookers are reading, know that I used to intern in that building, and lived to tell the tale. If you're not already dining on free, fancy Facebook food, you should totally check out Bully's Deli for lunch — they have a delightfully sprawling salad bar, and never shame you for requesting extra avocado. 
But be wary of the bathrooms. I once went sprinting back into the newsroom, hyperventilating, after coming face-to-face with a cockroach I'm certain was the size of a large rat.