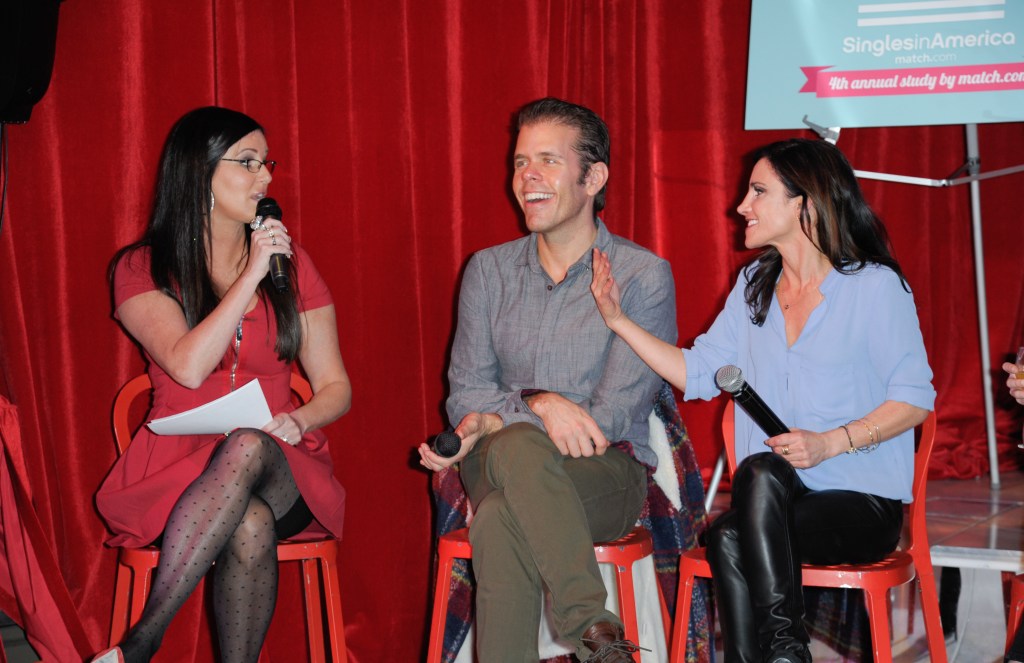 "A lot of singles said they want to have sex on a boat," Patti Stanger of Millionaire Matchmaker announced to an audience full of journalists in the Flatiron Hotel on Saturday.
"What?!" Perez Hilton exclaimed over the crowd's laughter. "Ew!"
The two were taking part in a panel on sex and dating, organized to trumpet the arrival of Match.com's annual Singles in America study. Also participating were sex therapist Emily Morse, Cosmopolitan.com sex writer Anna Breslaw and biological anthropologist/Betabeat fave Dr. Helen Fisher.

Mr. Hilton, née Mario Lavandeira, went on to surprise us a few more times as he revealed his conservative side. Of the 12 first dates he's been on recently, only one led to sex, he said. And when Ms. Stanger asked whether anyone in the audience liked to bring toys into the bedroom, the reformed mean guy's eyes went wide.
Call us crazy, but we expected the blogger who made a career out of doodling semen-drool on the mouths of starlets would be a little bit more sexually adventurous. 
As for Ms. Stanger, she elicited a few eyerolls from the audience when she insisted on calling two out of three black women who asked a question "girlfriend," and even urged one woman sporting natural hair to go for a longer style "like Beyoncé."
Ms. Stanger and Mr. Hilton, though, were a comedic match made for reality TV. We'd hate-watch a show about those two. Unfortunately, though, Ms. Stanger said Mr. Hilton has repeatedly denied her requests to be set up on her Bravo show.
Other highlights:
• Mr. Hilton said he prefers dates over coffee — not so much out of cheapness, but because he's got to meet a guy before he can decide whether it's worth cheating on his diet.
• Men fall in love much more quickly — and they're two and a half times more likely to commit suicide after a breakup, Dr. Fisher said.
• There's no hard and fast rule for how long you should wait before sleeping with someone. The old third-date rule is finally dead.
• The majority of men and women like to have sex in "the magic hour," starting at 10 p.m.
• Redheads have the most orgasms. It's not clear why; even Dr. Fisher was stumped on this one. Ms. Stanger has a reputation for hating redheads. She insisted it's not because she hates them, it's because her millionaire male clients hate them. Dubious, tbh. She did admit to dying her hair red for a year in her 20s and having plenty of orgasms.