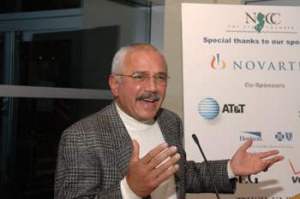 Former Assemblyman Wilfredo Caraballo (D-29) will stay on the Shavar Jeffries ticket as the Newark mayoral candidate absorbs the North Ward/Essex County team of his old rivals.
A longtime ally of Jeffries, dethroned from his LD29 assembly seat by Team DiVincenzo in 2007 after running afoul of the powerful Essex County executive, Caraballo is running for an at-large seat in this year's mayor's race.
"I actually for the last hour have been thinking through what happened this morning," said the Seton Hall University Law professor.
"I have no doubt it was difficult for Anibal to do what he did," he said of the decision by North Ward Councilman Anibal Ramos to drop out of the mayor's race and support Jeffries for mayor. "He did it graciously and generously and he did it for all the right reasons. He cares about this city and he has a vision for the city. It's all about a city that he comes from and that I have come to love."
An acolyte of DiVincenzo who worked to oust Caraballo in support of state Sen. M. Teresa Ruiz (D-29) and her running mates, Ramos will run on the newly merged Jeffries ticket as the North Ward council candidate.
Joining him and Caraballo, sources say, will be East Ward Councilman Augusto Amador and incumbent At-Large Councilman Carlos Gonzalez.
"I know it hurt," the former assemblyman said of Ramos' move today. "I'm assuming the strategists, for lack of a better phrase, are making sure we can merge our organizations together and form a strong ticket."