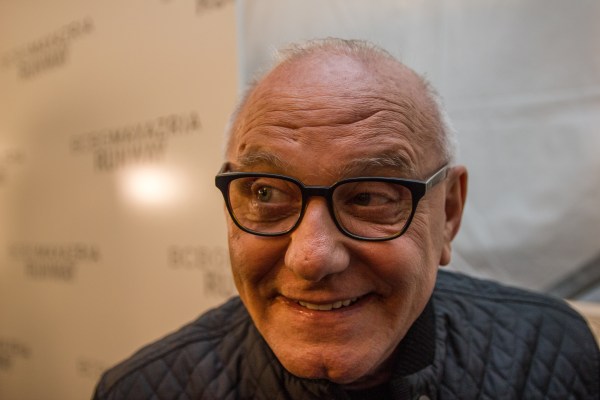 Entering the backstage area of BCBG Runway show, we found oursevles in the likeliest of Fashion Week environments. Workers clad in black, most of whom were young women in their twenties with headsets as accessories. A slew of media piling on top of celebrities that we clearly couldn't recognize (oh, it was Giada De Laurentiis, who looked much taller in her Louboutins than when we last saw her at the ACE Hotel Bar). Models were nowhere to be seen, tucked away in another backstage area, prepping. 
The ready-to-wear collection was one of the first to kick off this year's New York Fashion Week, along with Richard Chai, Nicholas K and Tadashi Shoji. But despite the show marking the brand's 25th anniversary, "retrospective" was not splashed across the designs that came down the runway. It was, instead, a classic homage to what their name stands for, "bon chic, bon genre."
Max Azria sat inconspicuously in the corner, clad in all black and spikey Louboutin sneakers, while his wife Lubov gracefully answered a frenzy of media. The 65-year-old designer didn't seem to want to share the spotlight, but rather sat on a stool, all smiles. 
"Oh The Observer, very good!" Mr. Azria exclaimed. He marveled at the choice of recording device, our iPhone. "Wow, technologie! Incredible!" 
New York Observer: In three words–
Max Azria: Not four, three! Trois!
NYO: In three words, describe this collection?
MA: [Grabs our face like a grandfather would when he hasn't seen you in months] Beautiful and beautiful and beautiful! 
NYO: That's too easy!
MA: Oh, I know!
NYO: Why do you choose to showcase in New York rather than any of the other fashion weeks?
MA: First of all, I'm very proud that eighteen years I chose New York against Europe because today–I don't know if you've heard or read–but New York is the number one place for fashion. Paris number two, London number three and Los Angeles number four. So I'm in a good position, I made a good choice.
NYO: Can you speak about the work balance you share between yourself and your wife when it comes to designing your collection?
MA: I think it's a very nice fifty-fifty. Totally. Of course I bring the craziness, she brings femininity. I take risks and she's calm.

NYO: Were there any disappointments when it came to creating the collection? Something that didn't come alive or didn't work?
MA: No, because really we see the results after the runway show because we didn't check [the clothes] under the light, with the music and the camera. What will happen happens, so it's like a magic moment.
NYO: It's very natural–
MA: Absolument! 
NYO: So who is the BCBG woman?
MA: She is a very good, very feminine woman, she knows the strengths of being proper and chic because she will become powerful. And she's like every human being who wants to be powerful. We HELP her to be more powerful, we do!