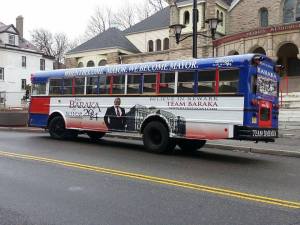 NEWARK – Days after the Newark mayoral race became a two-man campaign, one candidate's preferred mode of transportation was set on fire next to his Central Ward campaign headquarters.
According to a press release from the campaign of South Ward Councilman and Newark mayoral candidate Ras Baraka, the red-white-and-blue Baraka campaign bus was torched early Sunday morning.
"The popular campaign bus that prominently featured Ras J. Baraka's image and campaign slogan "Believe in Newark" was vandalized and set on fire early Sunday morning," the prepared statement read.
According to Capt. John Brown, spokesperson for the Newark Fire Department, the city fire department responded to a 7:01 a.m. phone call about a "small fire" at 421 Central Avenue. The fire was found centered on a seat inside the Baraka campaign bus.
The cause of the fire is presently undetermined. The Newark Fire Department's Arson Squad and the Essex County Prosecutor's Office are on the scene investigating the incident, Brown said.
The incident occurred days after both North Ward Councilman Anibal Ramos, Jr. and Central Ward Councilman Darrin Sharif abandoned their mayoral campaigns on Wednesday. The sole major candidate left to take on Baraka is former state Assistant Attorney General Shavar Jeffries.
The bus was seen earlier this month prominently parked on Broad Street in front of Newark City Hall transporting Baraka supporters when the Baraka campaign delivered approximately 11,000 ballot petitions for their candidate.
The campaign of Jeffries, a South Ward resident, offered a statement about the incident on Sunday.
"This is terrible. We do not condone this type of alleged behavior and hope that anyone involved in this potential arson is prosecuted to the fullest extent of the law. We are grateful that no one was hurt or injured," the Jeffries campaign statement read. "Several months ago, we issued a statement called O.N.E. (Opponents Not Enemies) and urged the other campaigns to join us in pledging to run a safe and clean campaign. As we get closer to election day, I am again calling on everyone to run a respectful and civil election that all Newark
residents can be proud of."