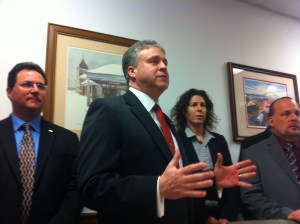 BAYONNE – Bayonne Police Capt. Jimmy Davis stood inside a jammed storefront office on Broadway and declared that it was time for the residents of this Hudson County city to make a citizens' arrest when it came to the administration of incumbent Mayor Mark Smith.
"Enough is enough. This is our city, this belongs to you. You decide who runs this city. You don't have someone take the power, and run with that power, and do what they want for themselves," said Davis to a cheering crowd of 75 people. "This is a new start."
With those words, Davis began what many political observers believe will be the most serious challenge against Smith, the former Hudson County Democratic Organization chairman, who some politicos have listed as a potential gubernatorial candidate.
Davis attacked Smith's record, stating that Bayonne was losing its unique identity because of an increasing municipal tax burden and development that supports corporate interests, not Bayonne's blue-collar families.
"This administration tells you they want to continue to move Bayonne forward," Davis said.
"Where? Into the Kill Van Kull?" interrupted an irked city resident.
There were other people in the room besides the person who referred to the tidal strait that separates the approximately 60,000-person city from Staten Island. Joe DeMarco, who successfully led West New York Mayor Felix Roque's insurgent 2011 campaign against then-incumbent Sal Vega, is on board as campaign manager. Several operatives who worked on the past council and mayoral campaigns of Jersey City Mayor Steve Fulop could be seen in the background.
Davis also introduced his full slate for the May municipal election, including First Ward candidate Thomas Cotter, Second Ward candidate Sal Gullace, Third Ward candidate Gary LaPelusa, and at-large candidates Sharon Nadrowski and former Hudson County Sheriff Juan Perez.
Davis, 50, is set to challenge Smith, who was first elected by a 2008 special election and then won a full term in 2010. Smith, who retired as deputy chief after 26 years on the Bayonne police force, told PolitickerNJ.com that he is confident about his chances against fellow police officer Davis.
"We've done all of the right things. We've slashed our debt by over 40 percent. We streamlined government, and we made all the hard decisions," Smith, 51, said. "We've really laid a strong foundation now so that we can go forward and finish the job that we started."
Smith also defended his record of raising municipal taxes and employing tax abatements since he has been in office, saying both policies were needed for Bayonne.
"Tax abatements are necessary tools to bring in good, responsible development, bring in ratables and create jobs," Smith said, adding that the stalled development of the former Military Ocean Terminal would soon move forward after "intense litigation."
"We were in a dire situation when our administration came in. You can call it a raise in taxes, but we did it in a necessary, responsible way to stabilize our taxes to get where we are today," Smith added. "Again, we made the hard decisions."
But while supporters munched donuts from Judicke's Bakery, Davis refused to bite at Smith's explanations of his policies.
"It's nice that he's been here for six years, and he's still blaming the old administration. We have a mayor who has no relationship with Trenton. I didn't have my campaign opening at the Chandelier. I had it here," Davis said, pointing around the room. "Most of [Smith's] campaign money comes from out of Bayonne. All of my money basically comes from $100 fundraisers from Bayonne people."
"Me and Mark have known each other since we were ten years old. We played on the same Little League teams together. We were partners in the detective bureau together," added Davis, a nod to the unique insularity of the Peninsula City. "If it means fighting for the city, I'm not afraid of him. I'll stand up to him."