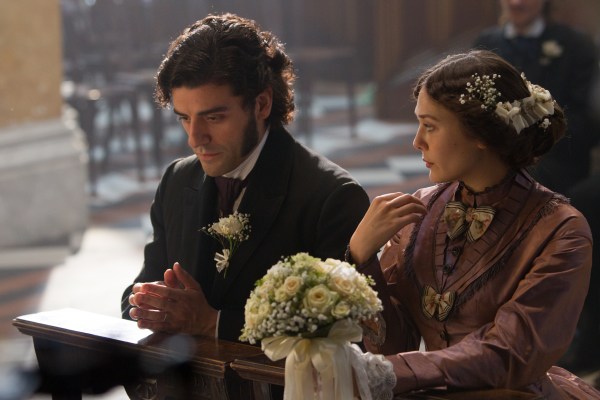 When it premiered to tepid responses at last year's Toronto International Film Festival, In Secret was called Thérèse, which makes more sense, since it's a respectable if drab distillation of Émile Zola's 1867 novel, Thérèse Raquin. The generic title In Secret is as uninspired as the movie itself.
---

In Secret ★★
(2/4 stars)

Written and directed by: Charlie Statton
Starring: Elizabeth Olsen, Jessica Lange, Oscar Isaac
Running time: 101 min.

---

 
This is the stark, heavy-breathing saga of a woman who sacrifices everything for passion and self-destructs on a detour to sex, murder and madness. A second cousin to Gustave Flaubert's Madame Bovary, Thérèse embodies the adage that you better be careful what you wish for because when you get it you might be sorry. It takes a special kind of director to bring Mr. Zola to the screen—one with visual flair for lush period costume drama and a sense of literary sensibility that fails to describe first-time writer-director Charlie Stratton.
There's plenty to look at but not much underlying sexual tension. Thérèse is played with an alarming lack of intensity by a hopelessly miscast Elizabeth Olsen, and nothing around her makes up for her shortcomings as an actress of any real depth or personal resonance. She doesn't so much tackle the role as waft her way through it, in much the same way the inexperienced and overrated Jessica Chastain slogged her way through the recent Broadway revival of The Heiress. When will these young movie stars realize that it takes a lot more to pump blood into the veins of a classic costume drama than a hoop skirt?
Thérèse is a motherless child dumped by an indifferent sailor father on the doorstep of his sister, Madame Raquin, a poor country widow with a sickly son named Camille, who must share a bed with his newly arrived cousin. By the time they become adults, the frail Camille (Tom Felton) moves them from the provinces to a depressing flat in Paris where Thérèse, whose father has died in a shipwreck, has no say in her fate, and his mother (Jessica Lange, of all people) immediately announces their marriage. Camille has a miserable job as a clerk, and Therese languishes unhappily as a wife who is treated no better than an indentured servant, slaving in her mother-in-law's fabric shop. It is there that she meets and falls for Laurent (Oscar Isaac, the scruffy mope from Inside Llewyn Davis), a strapping brute who wastes no time seducing her. The director introduces a dash of badly needed humor when Madame makes an impromptu visit to Thérèse's bedchamber while Laurent hides under her ample skirts. Massaging her daughter-in-law's neck while she moans in ecstasy, the old lady scarcely dreams to imagine that the noise has nothing to do with the migraine she pretends to be suffering.
The production values show a controlled attention to detail, yet the film never ignites. A more sensitive balance between the social constraints of 19th-century Paris and the loosened morals that join Thérèse to her modern feminist contemporaries in their united search for adventure might have stirred more compassion. But the sour performances subvert instead of stun.
In Secret does nothing to enhance Ms. Olsen's film career. She has a wide-eyed "ohmigosh" expression that seldom waivers and never really gives the film a central focus. Ms. Lange has more experience than the rest of the cast, having previously played the same brand of wicked Gallic schemer in the 1998 film version of Balzac's Cousin Bette. Here, she suffers a stroke triggered by grief and spends most of her screen time paralyzed and speechless. Mr. Isaac is not as creepy and hirsute as he was in Inside Llewyn Davis, but he doesn't have the chops to bring much sensuality to the role of a Parisian lover. Still, be grateful for small favors—at least he doesn't sing.