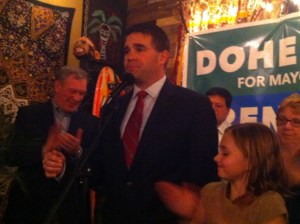 BELMAR – Mayor Matt Doherty set the tone quickly when he kicked off his re-election campaign at the Stay Gold Cafe on Tuesday night. Flanked by his running mate, council candidate Tom Brennan, and his nine-year old daughter Hannah, Doherty focused just as much on the events of October 2012 as on the election of November 2014.
"There are things that are part of our agenda that are planned. Then there were some things that were unplanned. What was unplanned was October 29, 2012," said Doherty, referring to the day that Hurricane Sandy slammed this Monmouth County seaside borough and broke its boardwalk into bits. "We were at Ground Zero. We lost 1.2 miles of
boardwalk. We had 60 percent of the town flooded. We had over 1,300 properties that were either flooded or needed to be torn down. Our volunteers went out there, they cleaned out all of those basements. They cleaned up this town, but you can go down the Shore and you'll see towns that are still not cleaned up. You can see how far we've come."
Belmar's boardwalk was rebuilt before Memorial Day last year, supported by an aggressive rebuilding effort directed by Doherty. The reconstruction campaign was fueled in part a borough-sponsored website that allowed residents and visitors to securely purchase the actual boards that comprise Belmar's new boardwalk.
The boardwalk was rebuilt with the considerable help of Republican Gov. Chris Christie, who met with Democrat Doherty soon after the storm. While Christie's post-Sandy aid distribution policies are under close scrutiny by a state legislature investigative committee, Doherty took ownership of the partnership he made in the chaotic days after the
hurricane.
"I have taken some criticism for working with the governor, and I will tell you unapologetically – I will work with anyone. I will talk to anyone. I will bend to anyone on behalf of my town, the borough of Belmar," Doherty said to applause. "A wise man once said, and this is very true, particularly if you're a small-town mayor and you need a lot of help. The three most important things is state government are get along with the governor, get along with the governor, and get along with the governor."
Doherty looked ahead to Belmar's future, touting his record of no borough tax increases since after he was elected in 2010 and pledging no tax hikes this year.
"We're taking our existing redevelopment plan and we're going to get rid of it," Doherty said. "We're going to form a committee of citizens in Belmar to find out what we really want on Main Street. We're not going to have eminent domain, it's not going to be a master developer, it's going to be block by block, lot by lot, individual property owner by individual property owner. We've got to continue to grow that commercial tax base so we can be sure to keep our lid on property taxes."
Among those in the crowd at the Belmar Democratic rally were state Assemblyman Jason O'Donnell (D-31) and Bayonne Mayor Mark Smith. Jersey Shore residents may use the term "benny" – an acronym for tourists from Bayonne, Elizabeth, Newark and New York – in a pejorative way. But in an Irish bar on Belmar's Main Street, O'Donnell explained one way that ties that bind, sealed by summer memories, also forge political bonds.
"Matt's uncle, Father John Doherty, has been the fire chaplain in Bayonne for more than 20 years," said O'Donnell, an on-leave Bayonne firefighter who is also Bayonne's public safety director. "These are life-long relationships, even if you move. At the end of the day, people don't want to know Democrat or Republican. To go through what he went through with Sandy, that alone warrants [Matt Doherty] getting re-elected."
There is no declared candidate against Doherty yet, but this is a strange time in New Jersey politics, where statewide shifts could influence local elections. Municipalities with Democratic mayors who endorsed Christie have been closely examined following the questions swirling around the Christie administration following the eruption of the Bridgegate and Sandy aid scandals.
But in back of the bar, Doherty told PolitickerNJ.com that he believes a certain line must be drawn in his 6,000-person beachside borough.
"I'm a Democrat, and I've always supported Democrats. I supported Barbara Buono for governor, and I campaigned with her in Belmar," said Doherty, 40. "I didn't endorse Governor Christie, and no one on Governor Christie's team, nor him, ever asked me to endorse him because I am a Democrat."
Doherty endorsed a theme that echoes up and down the Jersey Shore, a region still fighting to fully recover from Hurricane Sandy.
"I am frustrated with how long [the recovery process] is taking. Every mayor that I've spoken with on the Jersey Shore is," Doherty said. "In Belmar, no one wanted a buyout. They just want to get back home where they belong. It's a real simple message we have for the federal and state governments – just get people back home."