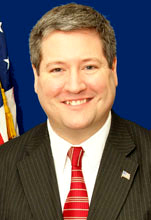 Assemblyman Daniel Benson (D-14) says he would consider running for state Sen. Linda Greenstein's (D-14) seat if the position becomes available.
"Obviously, Linda would have to run and win before you even get to the point where you would have a convention to fill a vacant Senate seat," Benson told PolitickerNJ. "But it's something that I would be looking at."
Benson's statement comes shortly after his Assembly districtmate, Assemblyman Wayne DeAngelo (D-14), told PolitickerNJ that he will run for Greenstein's seat if and when she moves up to run for Congress.
Like DeAngelo, Benson said he backs Greenstein for Congress.
"I think that's exciting news for a number of reasons," he said. "Linda has been a strong public advocate for her district and for New Jersey, and I think it's time that we have a woman in the delegation – especially a tough, strong woman like Linda Greenstein."