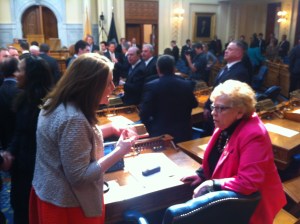 TRENTON – Bergen-based state legislators on both sides of the aisle stopped to consider two key themes of Gov. Chris Christie's Tuesday budget address: pension reform and municipal consolidation.
The governor pointed to rising pension, health benefit and debt obligations in his address to introduce the $34.5 billion fiscal 2015 state budget, including a $2.25 billion pension payment, stating ongoing reform attempts are "simply not enough."
Standing on the Assembly chamber floor after the address, several legislators from Bergen spoke out about what they thought Christie's call for further pension reforms actually entails.
"I have no idea what [not enough] means. I would just like to point out that public employees have been always paying into the pension system without ever missing a year, " said State Senate Majority Leader Loretta Weinberg (D-37). "It's the employers – state, county and local officials – that didn't pay their fair share."
"I know we have an obligation for those current employees who have their labor contracts. I refuse to violate or change their contracts," said Assemblyman Gordon Johnson (D-37). "Future employees, yes, I could see some changes there."
"We need to have the pension system healthy for the people who have been putting in towards it," said Assemblywoman Holly Schepisi (R-39). "But if we don't start doing some radical approaches with respect to creatively working together, there will be nothing left for anybody to have."
Christie also proposed $8.5 million set aside in the state budget to reimburse local governments engaged in consolidation and shared services. This idea that drew particular interest from legislators from Bergen County, home to 70 separate municipalities.
"Remember, I'm the guy who tried getting rid of Teterboro," said state Sen Bob Gordon (D-38), referring to bygone legislation proposed by Gordon that would have wiped the tiny municipality off the map.
"[Consolidation] is going to happen one day, but only when the pain gets so severe that mayors are going to say that there is no place to go, and nothing more to cut."
"I was just at a meeting of 15 business administrators from towns that I represent. They are talking about shared services, including police forces, and consolidation of courts," said Schepisi, whose district includes 23 separate municipalities. "The dialogue is compelling them to move forward in that direction."
"[Consolidation] is not going to happen until it happens from below," Gordon added. "It has to be a bottoms-up movement. Top-down doesn't work."