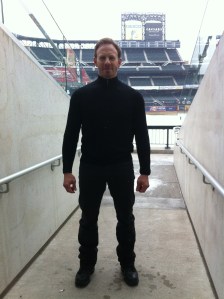 It was lightly snowing the morning we were invited to witness the wonder of SyFy's Sharknado sequel.
Ian Ziering, star of Sharknado 2: The Second One, wore a black turtleneck, jeans and utility boots in the stands of Citi Field, at the ready to shoot a scene whacking CGI sharks with a baseball bat. He had only one thing on his mind.
"Where's that selfie!" he said, motioning the Observer over with a muscled arm. "Get in there!" We stood obediently behind a bicep. Brows furrowed, deltoids flexed, the hero held us away from fake danger. Click. "Good stuff."
Mr. Ziering was well aware of the social media storm surrounding the unlikely pop culture breakthrough. As we sat down for an intimate interview, he even stoked it. "Sharknado is now a noun by which other things are compared to, not just in weather, but in the judicial system and in politics," he said matter-of-factly. "Judges have said 'I'm not going to let this turn into a sharknado. Town officials have said publicly 'We are prepared in the event of a sharknado.' The sport teams have had their sharknado moment. It's entered the vernacular."
When the B-movie aired on the SyFy channel last year, shark-versus-man fans waged their own feeding frenzy on Twitter. One of them was current cast member Judah Friedlander, who loved it so much he approached the movie's producers. "I tweeted about making my own movie, Vaginaconda," he said. "It's a pro-women film." Swinging around a baseball bat the size of a dumbbell, he was tasked with playing a regular Queens guy—and Mets fan—in the sequel.
Mark McGrath, who plays Mr. Ziering's ex-best friend from New York, hinted at getting his band Sugar Ray back together to do the soundtrack. Before shooting an epic run out of the stadium, he shrugged off a puffer jacket as crew members mopped the rotunda's frosting floors. Snow had filtered in past the turnstiles—No big deal, even though the movie is set in the summer. The shivering made Mr. McGrath look more scared, less cheesy. For further motivation, an assistant director shouted "Shark! Shark!" Another clamped his palms up against each other like giant teeth.
Tara Reid, a carryover from the first cast, said that on the set of a production like Sharknado—a low budget film with sub-par special effects—sometimes you just really need a good imagination. "When they're saying it's a great white or a hammerhead, you're just going for it," she told us.
The character's weapons had to be improvised, too, said Mr. Ziering. "There are no gun shops in New York City. Finding a Home Depot or a hardware store with a chainsaw—it's not on every corner!"
At the end of the epic shark run from the stadium, with only baseball gear to protect them, the sharknado fighters turned to an escape hatch: a New York City subway. Mr. McGrath scrambled onto the Manhattan-bound platform with Messrs. Ziering, Friedlander, and another cast member, Vivica A. Fox. Mr. Friedlander sliced his bat triumphantly through the air. "The 7 train is never late!"
Watch them flee an imagined shark attack on the Met Stadium here.