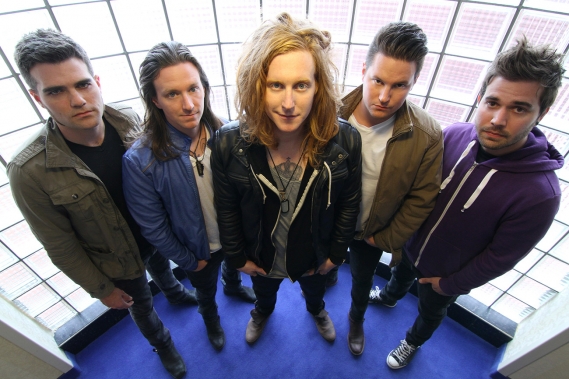 This past December, Beyonce shocked the industry by dropping her fifth album on iTunes with no advance notice, and still managed to rocket to the #1 spot on the charts. The album's surprise launch resulted in a slew of mainstream press. What you may not have heard is that within days of its release, rock band We the Kings managed to knock Beyonce's album off the #1 spot on the iTunes charts–due to the millions of fans they'd cultivated on YouTube.
The successes we're seeing with bands like We The Kings are becoming increasingly common as YouTubers with established audiences use the site to build their brands according to their own vision. When Billboard magazine began including YouTube views in its Hot 100 rankings chart in February 2013, it created new opportunities for music's Davids to topple traditional industry Goliaths. 
It's a part of the music industry that hasn't gotten much mainstream media attention but is becoming an increasingly influential part of the business. Acts like Traphik (who spent four weeks in the top spot of Billboard's Uncharted, a ranking of emerging artists), We the Kings, and others I've advised or watched are proving that YouTube isn't the future of music marketing – it's now.
In early 2013, We the Kings chose to leave their label behind and make their fourth album, Somewhere Somehow, themselves. Bass player Charles Trippy has been making YouTube videos since 2005, and he and wife Alli hold the world record for most consecutive daily video blogs. Their shared channel surpassed 1 million subscribers in 2013. This audience provided the band a platform to launch their Indiegogo campaign with their fans. "They were literally a part of the album – they're all thanked in the album," Mr. Trippy told me.
In addition to thanking contributors in the album's liner notes, the band offered supporters perk packages including everything from signed drumsticks to a spot on the band's behind-the-scenes guest list for life. This engagement with the band's fanbase was key to the runaway success of the campaign, which raised $149,483 – well over the original goal of $35k.
Traditional labels can still be a route to success for bands and musicians hoping to make it big, but We the Kings have proven that mainstream success no longer requires traditional label support. "Obviously, it helps," Mr. Trippy says, but, "you can still make it happen without it." And since fans, instead of a label, played a key role in the album's production, "when the album goes to number one, and they helped make the album happen, they went to number one with us."
Mr. Trippy and other YouTube musicians attribute much of their success to this ability to tap into their communities directly. Mr. Trippy alone has posted over 2,600 videos over the years totaling 488,623,217 views, and cultivated a community of fans which identifies itself as members of CTFxC, short for 'Charles Trippy Family x Core.' Similarly, Traphik has posted over 850 videos, other successful YouTube musicians such as rapper DeStorm Power, and violinist Lindsay Stirling have taken a similar approach – inviting fans into their daily lives via a steady stream of video content – keeping their audience engaged far beyond the excitement over the release of new music.
In the case of We The Kings, after the album dropped, the band continued to engage fans through social media. Mr. Trippy and the band's frontman Travis Clark promised to tattoo the album's name on their chests if Somewhere Somehow reached #3 on the iTunes chart. "Of course we got #1 within a few hours after saying that," Mr. Trippy laughs. We the Kings aren't alone in using YouTube to light a fire under their album sales: musician and YouTube sensation Alex Day hit #8 on the iTunes UK chart with his album Epigrams and Interludes the day after its release. Behind him, at #9 on the chart? Justin Timberlake.
Traditional album sales have hit a historic low, and the latest releases from mainstream pop icons Britney Spears and Lady Gaga were deemed among the biggest album flops of 2013. In contrast, these YouTubers have found themselves in the enviable position of being courted by managers, labels and artists alike.
Rapper and YouTuber DeStorm Power hit #20 on iTunes, getting the attention of mainstream artists such as Snoop Lion and Talib Kweli, with whom he later collaborated. When dubstep violinist Lindsey Stirling signed with Lady Gaga's former manager Troy Carter, Billboard magazine reported that plans for Stirling's album promotion included no radio push. According to Mr. Carter, it just wasn't necessary. At the time, Stirling's lead single "Crystallize" had already reached #17 on the Billboard Dance/Electronic Digital Songs list, and had spent 20 weeks in the top spot on the Classical Digital Songs list, thanks to the exposure she'd built entirely online. Her music video for the single ended 2012 as the eighth-most watched on YouTube, and as of this writing, views on her YouTube channel number in the hundreds of millions.
That kind of engagement is what separates these YouTube success stories from traditional music marketing (disclosure – this is why I've continued to collaborate with YouTubers such as Charles, etc in campaigns that I work on). A glossy magazine ad promoting an album doesn't even come close to creating the depth of connection artists can create by crafting and sustaining online communities for their fans. Charles Trippy believes, "There's a lot more loyalty than just opening up a magazine or seeing something on a commercial."
Granted, achieving the kind of following that made artists like Lindsey Stirling, DeStorm Power, Alex Day, and We the Kings successful isn't easy and it isn't guaranteed. Successful YouTubers put in long hours creating content and interacting with fans to build strong relationships with their audiences. But, this still opens up opportunities into an industry that once was walled off by gatekeepers. Now, as Trippy put it, the barrier to entry is "blood sweat and tears, instead of just money."
Brendan Gahan (@brendangahan) is a YouTube expert helping Fortune 500 brands with their YouTube influencer and community building campaigns. He was named Forbes 30 Under 30 in Marketing & Advertising and one of the 25 Top YouTube Business Power Players for 2013.