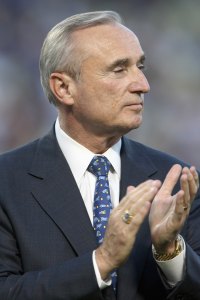 Bill Bratton will march in this year's St. Patrick's Day Parade, a decision that will separate the police commissioner from Mayor Bill de Blasio and the City Council, which is officially boycotting the Irish-American celebration.
Parade organizers have drawn fire because they do not allow groups with signs or banners identifying themselves as LGBT to march.
But Mr. Bratton told reporters that he would march anyway, when asked about the parade a press conference in East Harlem this afternoon.
"I will be marching in the St. Patrick's Day Parade," Mr. Bratton said, declining to elaborate. Mr. de Blasio stood next to him as he made his remarks. 
Mr. de Blasio, in a break from his predecessor, Michael Bloomberg, will not march in the 5th Avenue parade this year–though he has not barred city workers from marching in uniform, as some wanted.
Like Mr. Bratton, ex-NYPD Commissioner Ray Kelly also chose to march in the parade. Earlier this month, Sanitation Commissioner John Doherty, a Bloomberg holdover still serving in the de Blasio administration, said he would march as well.