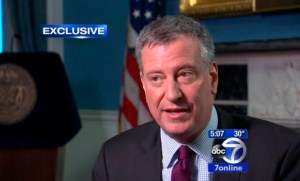 Mayor Bill de Blasio today acknowledged that his young administration had endured several "bumps" in its first two months, but said it's still too early to judge his progress.
In an interview with ABC 7, Mr. de Blasio also denied that he'd grown "testy" with the media, despite a spate of negative coverage, beginning with his decision not to shutter schools during the last major snow storm and a call he placed to police on behalf of an arrested supporter.
Last Friday, Mr. de Blasio stormed out of a news conference, refusing to take questions after his motorcade was caught on camera speeding and running stop signs.
"No, I'm plenty sunny," insisted the new mayor, speaking to reporter Dave Evans at City Hall.
Mr. de Blasio acknowledged that his administration had indeed endured its share of challenges, including near-record snow fall, but insisted that, "Bumps are part of life. They're part of New York City."
He went on to dismiss his bout of bad press, arguing that the headlines had little relation to the opinions of regular voters.
"I spent a lot of time talking to everyday New Yorkers. I think they see the world very differently than the political class and very differently from the media," he said, adding that it's still too soon to judge his young administration.
"Seven weeks into anything in life is too early to draw major conclusion. I would say we're off to a great start," he said. "I'm very comfortable. Look, we hit the ground running and we've obviously propelled forward our agenda very, very aggressively."
Mr. de Blasio also addressed his constant lateness to press events, dismissing the significance of his tardiness.
"Sometimes things are not going happen exactly at the time they were scheduled because there's still some things we still have to do or sometimes issues come up," he said. "I think we've seen, again , six snow storms in seven weeks deeply affected our schedule."
View excerpts from the interview below: