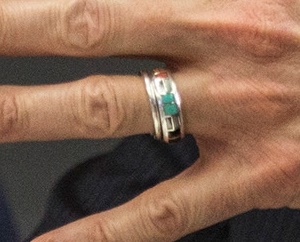 Bill de Blasio, who is often described as indecisive by those who work closely with him, waited until the last possible minute to decide on his wedding ring, too.
The mayor described the ring-hunting experience at an unrelated press conference this afternoon when an eagle-eyed reporter noticed that his distinctive, silver-and-stone wedding band was missing from his finger.
"No one's asked what it is, and I find that quite amazing," began the mayor, recalling how he found the "Native American Zuni Indian" jewelry.
"It was the day before our wedding and Chirlane and I had not been able to find a ring we found interesting enough to wear–with all due respect to other types of rings," said Mr. de Blasio, adding in a sarcastic "great planning here" aside as he remembered the tale.
"Then we went to a store in Greenwich Village and it was about to close and it was the last store we could get to," he continued. "And we're looking around, and this just multi-stone–different kinds of stones––Zuni Indian ring screamed out to us at the very last moment, which was meant to be. And I love my ring. And I love my wife."
Mr. de Blasio also insisted he keeps track of the jewelry item–even if he forgets to put it on.
"It's just from day to day," he said offhandedly. "It's just there in my little drawer. And sometimes I remember and rush to put it on and sometimes I don't. But I know exactly where it is."