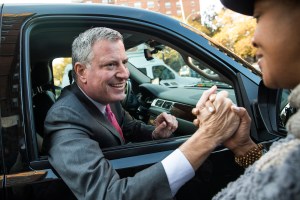 Despite repeatedly promising this morning that he'd take questions about the controversy surrounding his caravan breaking multiple traffic laws, Mayor Bill de Blasio shut down questions on the topic at an unrelated press conference this evening.
Before walking away as reporters shouted questions at him, Mr. de Blasio read a brief statement referring to NYPD Commissioner Bill Bratton's earlier comments defending the conduct of the mayor's security detail.
"I have great respect for NYPD security training and protocals. I am committed, obviously to traffic safety and safe streets in NYC. That's why we put forward 'Vision Zero.' Commissioner Bratton addressed the topic of my security detail earlier today. I am very comfortable with what Commissioner Bratton said. And I refer you to his comments," said Mr. de Blasio.
His aides further declined to take questions on the issue.
This morning outside his home, Mr. de Blasio also refused to answer questions about the controversy, which involved his caravan running multiple stop signs and going up to 15 miles per hour over the speed limit just days after announcing a new push to lower traffic speeds across the five boroughs. At the time, however, he vowed to take off-topic questions at this evening's event.
"We'll have a press conference later on and we'll have a chance later on to talk to you about a variety of issues including … anything else you want to ask about," he assured.
"You can ask all the questions you want," he added as he was pressed. "You can ask any other questions you like … You can ask any and all questions."
His reversal prompted a harsh reaction from the press:
As @BilldeBlasio left Blue Room without taking questions, disbelieving reporters shouted after him. Press aides refusing to talk further.

— Jonathan Lemire (@JonLemire) February 21, 2014
Reporters pushed out of West Wing of City Hall. Angry mob. Reporters saying they have never seen something like this.

— Michael Howard Saul (@MichaelHwrdSaul) February 21, 2014
Did anyone clock de Blasio's speed as he dashed out of the Blue Room? @MKramerTV?

— Andrew J. Hawkins (@andyjayhawk) February 21, 2014
wow.

— chris smith (@chrissmithnymag) February 21, 2014
Wow. De Blasio just bolted out of the presser, refusing to answer qs about his security details traffic scandal. #why?!

— Colby Hamilton (@bcolbyhamilton) February 21, 2014
Yes, mayor who vowed transparency & was credited with having a grt campaign communication strategy is ducking reporters & refusing to talk

— Azi (@Azi) February 21, 2014
The speeding itself may be a non-story, but not taking questions makes the issue about transparency and access, two things he promised.

— Danielle Tcholakian (@danielleiat) February 21, 2014
Man up time for new mayor? Mayor de Blasio looking not ready for prime time in response to relatively easy stuff

— Michael Powell (@powellnyt) February 21, 2014
Bill de Blasio has thrown gasoline into this fire.. The City Hall press corps won't take finger off the dial now.

— Gloria Pazmino (@GloriaPazmino) February 21, 2014
BdB's press strategy seems to be to go out of his way, not even 2 mos. into his term, to smugly alienate those covering him.

— Clyde Haberman (@ClydeHaberman) February 21, 2014
.@BilldeBlasio's campaign page on transparency and reform is a great read: http://t.co/fprlJADmHr

— Chester Jesus Soria (@chestersoria) February 21, 2014
Someone needs to take away @BilldeBlasio's apparently well-read copy of "Mismanaging Bad Press for Dummies."

— Casey Seiler (@CaseySeiler) February 21, 2014
Bush-league mayor

— Harry Siegel (@harrysiegel) February 21, 2014
Reporters are shocked de Blasio just walked out of here without taking questions. This just means the story will linger.

— Grace Rauh (@gracerauh) February 21, 2014
I don't get the press strategy. Does he think reporters won't have the same questions on Monday? Isn't it better to bury it on a Friday eve?

— Dana Rubinstein (@danarubinstein) February 21, 2014
A great moment in City Hall transparency: Why bother holding press conferences if you only take questions that you want to hear?

— Bob Hardt (@Bobmagic01) February 21, 2014
Not taking off-topic question is not really an option with the NYC press corp, as de Blasio is about to discover:

— Michael Barbaro (@mikiebarb) February 21, 2014
Quite seriously, who concluded it was a good idea for the mayor to literally walk away from that Q&A?

— Celeste Katz (@CelesteKatzNYC) February 21, 2014