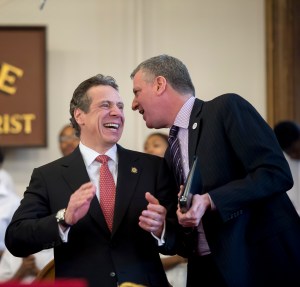 Add another item to Bill de Blasio's Albany wish list.
The mayor this afternoon unveiled an extensive plan to minimize pedestrian traffic fatalities, the most ambitious of which would reduce the default speed on unmarked streets to 25 miles per hour, from the current 30.
But like his signature effort to raise taxes on the rich to fund universal prekindergarten and his push to grant the city power to raise its own minimum wage, the latest rollout will require a stamp of approval from state lawmakers, who have thus far proven less than interested in greenlighting his plans.
Mr. de Blasio is already locked in a seemingly uphill pre-K battle with Gov. Andrew Cuomo, who has repeatedly thrown cold water on the tax portion of the plan and proposed a state-funded version instead. Dean Skelos, the Republican leader of the State Senate, has said he won't bring the plan to vote. Mr. Cuomo and senate officials have also been dismissive of Mr. de Blasio's request to raise the city's minimum wage, pointing to last year's wage hike and arguing the rate should be consistent statewide, not vary city-by-city.
Mr. de Blasio is nevertheless plowing ahead with his third request, which will also include continuing his predecessor Michael Bloomberg's efforts to push for more speed and red light cameras.
"We believe that a certain level of authority is needed from Albany and we expect a very positive discussion, working with our colleagues in the City Council, working with our colleagues in Albany, to get us that authority so we can move forward," Mr. de Blasio said today, answering questions after unveiling his 63-point "Vision Zero" proposal at a press conference on the Upper West Side.
"I think this is an area where there's a growing consensus," he added. "And so I think this is an area where we're going to find a lot of agreement involved."
Under former Speaker Christine Quinn, the City Council tried to find ways to reduce the city's speed limit to 20 miles per hour, but had trouble working around existing laws. At the time, the city's Department of Transportation argued the proposal would conflict with state laws, which only permit limits that low if other traffic-calming devices are used. The fatality risk when a pedestrian is struck by a car traveling 30 miles per hour is far higher than the risk when it's going 25 miles per hour, according to city stats.
The mayor's office said it believes their new plan is a better approach because it would create a simple, city-wide limit with fewer required carve-outs–but others remained skeptical Tuesday about the new mayor placing yet another major initiative in the state legislature's hands.
"Every time Bill de Blasio goes to Albany, a little part of his political capital dies," said one former aide. "He needs to realize that his days of an activist are over and that he should start showing leadership and actually delivering results for the people who elected him."
Still, Gov. Cuomo's office seemed open to the idea."We look forward to reviewing the Mayor's plan and working with the City to reduce traffic fatalities," spokeswoman Melissa DeRosa said.
A spokesman for Assembly Speaker Shelly Silver said in a statement that, "The Speaker has said there are far too many injuries and deaths on our streets and it's important to look at ways to make them safer" and will review the mayor's proposals.
Representatives for the Senate's co-leaders did not immediately respond to requests for comment.
Mr. de Blasio also today raised eyebrows in the taxi industry, which balked at a one idea proposed in the plan: exploring having the TLC lower fares if new technology installed in cabs detected cars speeding. (The plan also proposes pilot technology that would alert drivers and passengers when cars were speeding or automatically reduce speeds.)
"To shut off the meter in the middle of a fare is not only insane Big Brother, it's severe, cruel, and simply unhelpful," said Bhairavi Desai, executive director of the New York Taxi Workers Alliance. "Technology that can truly be helpful should be considered, but this would just be overboard. Drivers already have no guaranteed income, only expenses on the lease, fuel and vehicle repairs. Every statistic shows taxi drivers are the safest drivers in New York City.  We don't deserve to be singled out and punished to do even better."