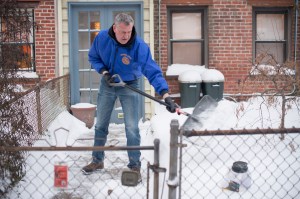 Bill de Blasio is now visibly annoyed at the constant blizzards bombarding New York.
Speaking at a press conference this morning, the new mayor repeatedly sighed and expressed his exasperation at Mother Nature, which is set to deliver the fourth significant snowstorm of his tenure later today, with yet more bad weather forecast for later week.
"The snowstorm situation is reaaaally getting a little too common," began Mr. de Blasio as he began an update on tonight's approaching storm.
"So," he added, pausing for a breath, "let's talk about tonight!"
"The next snowstorm," he continued, again pausing a beat, "will start roughly … between 12 midnight and 2 a.m." However, those numbers, he said, were according to the National Weather Service. "As I've emphasized, the National Weather Service has a habit of updating their forecasts and things change. I'm now learning that forecasts can change–meaning more snow."
Mr. de Blasio's storm response has received mixed reviews. While his first brush with the white stuff was generally regarded as successful, he was heavily criticized after his second encounter for inadequate plow service in the Upper East Side and Staten Island. Yesterday's storm also drew complaints.
Reflecting on the last few weeks, Mr. de Blasio had clearly had his fill.
"We've had this ridiculous run of storms the last few weeks. It would be nice if this would be the end of them this weekend," he offered. "We can't say that for sure."
And, discussing his habit of shoveling his own sidewalk later in the press conference, Mr. de Blasio tossed in yet another aside.
"I think I did three rounds of shoveling and three rounds of salting yesterday," said the mayor. "This is really getting obnoxious."