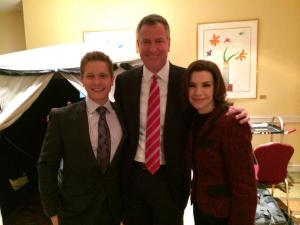 Mayor Bill de Blasio is more than ready for his close-up.
The new mayor gushed today about his upcoming appearance on the television show The Good Wife, telling reporters when asked that he and his wife are "obsessed" with the drama. 
"I watch the show constantly," Mr. de Blasio said at an unrelated press conference today. "Chirlane and I are deeply obsessed with The Good Wife and it was an extraordinary experience to meet these cast members that have become like family … It's a fantastic show and I look forward to you seeing my attempt at acting."
Mr. de Blasio will reportedly play himself in the show, which follows the life of fictional attorney Alicia Florrick. He is not the first mayor to guest star on the CBS drama–Michael Bloomberg, his predecessor, appeared on the program last spring.
But despite his excitement, Mr. de Blasio was mum today on details of the Good Wife cameo, which is set to air on March 16.
"I cannot comment on any way, shape or form on what is happening," he said with a smile, warning that revealing the substance of his role "would violate the omertà of The Good Wife."