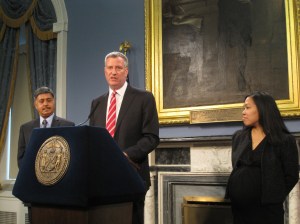 Mayor Bill de Blasio will lay out his first preliminary budget proposal this afternoon, outlining his spending priorities and the fiscal challenges he'll be facing over the next four years.
But the big question will be how Mr. de Blasio sets the stage for negotiations with the city's more that 150 municipal labor unions, which have been operating for years under expired contracts–leaving tens of thousands of municipal workers itching not just for future pay hikes, but retroactive raises.
"We're obviously going to talk about the profound challenges we face. We are going into the great unknown here. We have never had all our labor contracts open simultaneously–we've literally never, ever experienced that before as a city," the mayor told reporters at a press conference last week. "So I'm going to describe what that means. And I'm going to describe the actions we're taking to deal with that situation."
The most significant challenge, observers say, will likely be a rare wealth of riches. Mr. de Blasio is coming into what most experts agree is a budget flush with cash, with a surplus some peg as high as $4 billion. The city's Independent Budget Office's latest figures from December anticipate a surplus of $1.9 billion in the fiscal year that starts July 1, thanks to an expected surplus of $2.4 billion, which most expect to be rolled over into next year.
Mr. de Blasio's predecessor, Michael Bloomberg, patted himself on the back for leaving Mr. de Blaiso with an historic balanced budget. But those numbers don't take into account a glaring factor: the expired labor contracts. Last November, Mr. Bloomberg set aside more than $700 million to give the city's workers 1.25-percent-per-year raises through 2015. However, those numbers amount to far less than what the unions are demanding–not even taking into account demand for retroactive hikes that could cost the city as much as $7 billion, according to one estimate. (Other projections are less but still daunting.)
The realities may give Mr. de Blasio an incentive to undersell the city's finances to put him in a better bargaining position when he begins the task of settling the contracts later this year.
"If you're in a negotiating position, wouldn't you want to show as little money as possible?" asked Doug Turetsky of the Independent Budget Office. "I think there's a natural inclination … to be prudent in your revenue estimates. You certainly would prefer to underestimate than overestimate."
And, as Mr. Bloomberg demonstrated, there is indeed wiggle room. "Budgets are always a moving target," said Mr. Turetsky, who noted the previous administration had a tendency to assume inflated interests rates on money the city borrowed. That meant that, when payments were tallied at the end of the year, he ended up with extra cash.
Still, he said that finding money for retroactive raises would be tough. "Going backwards, there is nothing there for retroactive raises. So where would the money come from? It would have to come form either increased cuts or better revenues that we projected," he said.
Aside from minimizing the appearance of the surplus, observers expect relatively few other major changes this afternoon. This time of year is usually marked with revisions to economic indicators like tax revenues, with agency reports on their expenditures through the end of the calendar year.
Experts do expect Mr. de Blasio's budget to include his proposal to raise taxes on the richest residents to fund universal pre-K and after school programs, with lines reflecting expected expenditures as well as tax revenue–which Albany lawmakers have yet to endorse. The budget may also reflect announced cuts to charter school expansion and perhaps an attempt to spend the money that Gov. Andrew Cuomo has put on the table to fund pre-K as an alternative to raising taxes on on the rich on other programs–further elevating the stake in their ongoing show-down.

Maria Doulis of the Citizens Budget Commission, a business-backed non-profit, said because Mr. de Blasio isn't facing any major deficits and has only been in office for about a month, "we don't expect to see much new stuff."
"Perhaps he's going to prepay some expenses in 2016," she said, suggesting that money could be directed toward paying off some of the city's debt or investing in capital projects. "Because the budget that's been handed to him is balanced, he's got a lot of options."
But former city comptroller and mayoral candidate John Liu said the looming challenges can't be underestimated.
"He said it point blank: The mayor said that the outstanding municipal contracts are the biggest fiscal challenge. And they clearly are," said Mr. Liu, arguing that talk of a "balanced budget" was overstated.
As for the city's unions, he said they would simply have to make concessions.
"At the end of the day, it's not going to be everything that the unions would like to have," he said. "But it's not going to be zeroes. There's going to be negotiations. There's going to be some give-and-take, and at the end of the day, I think a good solution will be had."