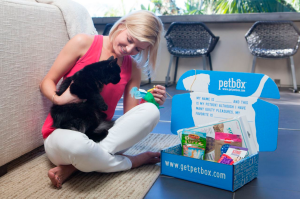 PetBox opens for business Because your cat has definitely been hella jealous of your Birchbox deliveries, PetBox has launched a customizable monthly subscription box for cats and dogs. Products are available for the "organic pet," "pampered pet," "nervous pet" and "playful pet." Ugh, now we want a puppy.
Nerd Block builds a base Nerd Block, the startup that sends monthly boxes of geeky gear to your doorstep, has just announced that its subscriber base has doubled since its September 2013 launch. The force is clearly with them.
AwesomenessTV staffs up Teen media company AwesomenessTV has hired Kelly Day, formerly CEO of Blip Networks, to be its chief digital officer. Ms. Day will oversee AwesomenessTV's multi-channel network, and increase the distribution of its content and its partners content all across the interwebs.
Dyce rolls in If you can't figure out where to go for dinner or drinks, download the newly-launched app Dyce, which says it's "like Yelp with the element of chance and mystery." Dyce will locate six restaurants or bars within your current radius, and then roll a dice to determine which one you should check out. "It's loads of fun to use on a night out when you don't know where to go and want to leave it up to chance!" the company says.
Livecube launches Livecube, an app that lets event attendees engage with one another online, has just launched. Livecube says it's perfect for events like trade shows, conventions and conferences, where users can filter out all the extraneous distractions and focus on the people and ideas that matter most.
Brooklyn gets good advice The Downtown Brooklyn Partnership announced last week that real estate executive MaryAnne Gilmartin and MakerBot CEO Bre Pettis will serve as co-chairs on its Board of Directors. "Nothing reflects innovation more than Bre's ingenious MakerBot 3D Printing Ecosystem and there's no better example of a prominent CEO and company dedicated to innovation and to the continued success of the Downtown Brooklyn area than MaryAnne and Forest City Ratner Companies," said Downtown Brooklyn Partnership president Tucker Reed.