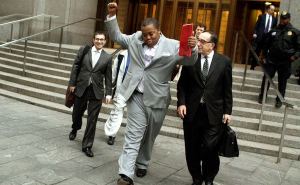 Lori Boozer, a community activist challenging indicted Assemblyman William Boyland, won the first union endorsement in what may be yet another crowded race for the Brooklyn seat. 
Ms. Boozer secured the endorsement of the United Automobile, Aerospace and Agricultural Implement Workers of America, a union not known for its political clout locally. Nevertheless, it indicates that at least some establishment forces are ready to see the thrice-indicted Brownsville assemblyman go. 
"In a district long plagued by corrupt politicians like William Boyland, Lori is a breath of fresh air," said Julie Kushner, the director UAW Region 9A, in a statement to Politicker. (Ms. Boozer is a member of UAW). "An accomplished advocate and UAW member who's put her law degree to work giving back to her neighbors, we're confident Lori has the integrity, know-how, and dedication to serve the community she grew up in ably as a member of the New York State Assembly."
Ms. Boozer, who has already hired a consulting firm and declared her run, is one of several candidates that have expressed interest in challenging Mr. Boyland. Lamont Carolina, a former Obama campaign field organizer, is also eying the Brownsville seat, as well as a staffer for local Councilwoman Darlene Mealy. 
If Mr. Boyland is convicted, he will be forced to resign. Ms. Mealy herself has privately indicated she would be interested in running if the seat became open, potentially upending the entire race. 
But if Mr. Boyland is able to seek re-election, he will not be easy to topple. Belonging to a local political dynasty and carrying superior name recognition in the district, Mr. Boyland was able to fend off a bevy of challengers in 2012 despite running while under indictment. 
Mr. Boyland did not immediately return a request for comment.