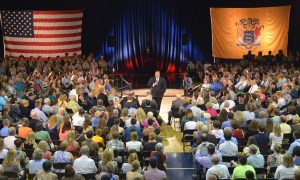 STIRLING – Gov. Chris Christie is preparing to host his second town hall since being sworn into office for another term earlier this year.
The governor's event comes only a day after he rolled out his Fiscal Year 2015 budget proposal during a joint legislative session.
Here's a quick look at yesterday's coverage of Christie's budget address:
The governor's proposed budget lacked an across-the-board tax cut proposal Christie has pushed for years and that appeared to be making a comeback as soon as late last year. The state treasurer would later say that eliminating a tax cut from the budget proposal was the "prudent, fiscally responsible thing."
However, the looming budget negotiations won't lack a difference of opinions between the governor and the Democratic-controlled Legislature.
The governor signaled during his address he will push for additional pension reforms following the 2011 historic overhaul.
Christie's comments trigged a sharp rebuttal from leading lawmakers who told the governor during a news conference with reporters that additional pension reforms are basically dead on arrival.
Of course, missing from the Assembly chamber during the governor's address was his last gubernatorial challenger and long-time lawmaker former Sen. Barbara Buono. Don't worry, she still watched the governor's address, according to her Twitter account.