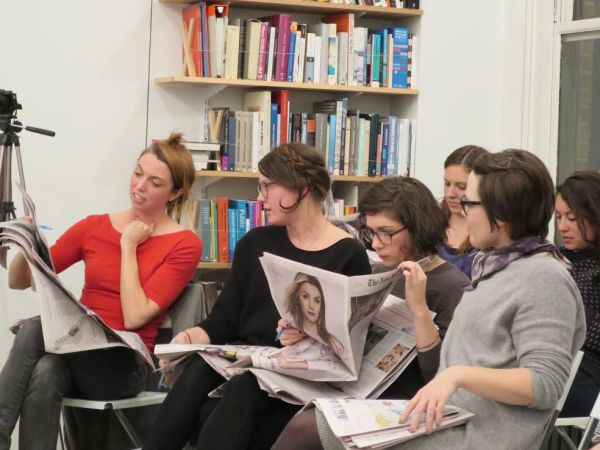 Last Thursday, Off the Record found itself in a nondescript room in Tribeca with a copy of Thursday's New York Times in our lap, dissecting the paper of record from a feminist perspective.
"Taking something so popular is really our jumping-off point to get at what feminism means today," said Jen Kennedy, a Canadian writer and artist currently working on a dissertation on the role of "girl culture" in the work of the Situationist International, the Beat-era, avant-garde, intellectual movement. 
Ms. Kennedy and Liz Linden, a Brooklyn-based artist, came up with the idea for The New York Times Feminist Reading Group in 2009, as part of an ongoing collaboration into the "semiotics of feminism." 
"It's been interesting since Jill [Abramson] took over as the first female editor in chief. We project onto the paper certain shifts in tone and in the kinds of stories," Ms. Linden said. "I know she has many more female editors than there used to be. So I think she is making actual changes to the paper. Whether you see that in the actual paper is still a question." 
Unlike reading groups the duo had hosted in the past that analyzed books, examining the day's newspaper has the advantage of being new to everybody, meaning that nobody gets to claim "authority" over the text or assert prior expertise, Mses. Linden and Kennedy explained.
A table in the corner of the Independent Curators International reading room was laden with copies of Thursday's New York Times, clementines, La Petite Ecolier chocolate cookies, Abita beer, wine and Pellegrino. (Apparently, reading groups have similar refreshments whether they are feminist or not.) Two rows of folding chairs were arranged in a semicircle. One chair featured a selecion of pens, Post-it notes and colored pencils for note-taking. There was a good turnout: Around 30  gathered to tak about the paper. Many of the  women looked more gallery chic than we expected. It is an art project, after all.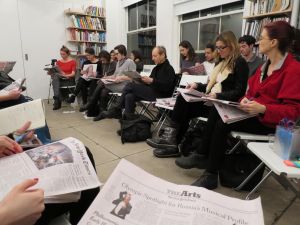 The assembled went around the room and introduced themselves. There were architects, gallery staffers, gender studies professors and a pair of artists who had temp jobs at the Times sifting through contest entries. One woman said she was just interested in creative thinking. 
A soft-spoken freelance arts and culture writer for The Wall Street Journal said she "liked The New York Times, too." A middle-aged man said he had experience with meetings about women's issues. 
The structure was a free-form discussion. Someone called out an article, and, pages rustling, the group turned to it and casually pipes in with observations. Before getting started, the organizers had explained that "there are no preconceptions. Everything is up for grabs."
Everyone turned to A3, which had a "pretty annoying" ad for Tiffany's, in which a woman was perched on a giant bracelet that doubled as a balcony, while being wooed by a suitor. "You make my heart sing," the caption said.
"The ads are all kinds of annoying," someone else added.
"Jay Leno looks very masculine," someone said, of a 1992 picture of the former Tonight Show host, feet on his desk, looking pensively into the distance, that illustrated a story about Mr. Leno's last show.
Then it was over to Business Day, where we discussed a front-page story entitled "Narcissist's Dream: Selfie-Friendly Phone." The piece featured five photos of people taking selfies. 
"It's all pictures of women," someone noted, understandably missing the Justin Bieber shot. 
The group spoke about the somewhat sarcastic tone of the article and the fact that (mostly) women were used to illustrate an article about  narcissism. "You could blame the journalist, but what degree is that the influence of the editor?" someone wondered. "As an interested bystander, it's hard to know where to cast blame."
(OTR NB: Blame the editor.)
Someone mentioned a one-column story about Susan Wojcicki, Google's S.V.P. of advertising and commerce who was just tapped to run YouTube. The group agreed that the headline "Google Picks Top Woman as Manager of YouTube" wasn't really reflected in the story, which was more focused on YouTube as a business than on Google's most senior woman. 
"What's a catchy title, and what's deliberately misleading?" someone wondered. 
But there were a surprising number of women in Thursday's business section, the group agreed. And the word "feminism" was mentioned four times in the paper overall. 
There was a prolonged discussion of a new approach to makeup advertising, using real women's beauty routines instead of celebrity. 
The last line in the story, about whether complimenting a woman's foundation may mean that you are actually insulting her skin, was seen as reinforcing the notion that women are catty. 
But then again, a woman said, "Those of us who hate on the beauty industry will hate no matter what." 
Someone brought up the recent Jezebel stunt where Gawker's lady blog offered $10,000 for unretouched photos of Lena Dunham's Vogue cover shoot. 
"It made me feel really uncomfortable with Jezebel," a woman said. "But then I feel uncomfortable with Jezebel for many reasons."
"Is Jezebel the girl in Vogue?" whispered a visual artist. 
Thursday's style section, which we thought would be a bigger focus of the meeting, was pulled out. "Mayor [Bill] de Blasio is described in very romantic language," someone noted, of an article about the mayor's relationship with the fashion community.
The hour and a half  went quickly. The meeting made us nostalgic for semantic discussions based on close readings of text. (It has been a few years since college lit classes.) 
But we couldn't help but imagine what editors at a frenzied daily would think if they could see the captions and headlines they rapidly slap on stories picked apart and analyzed in minute detail.