To celebrate completing her first year in office, a Canadian politician hosted a (very lovely and polite) Reddit Ask Me Anything last week. And you thought we Canadians hadn't mastered electricity yet. 
Last Tuesday, Kathleen Wynne celebrated her first anniversary as Premier of Ontario—meaning, basically, she's the head of government for that really big province that has Toronto and Ottawa and the good side of Niagara Falls. In honor of the milestone, Ms. Wynne hosted this hour-long AMA, where she invited Redditors to "Ask me anything, and as long as it's appropriate, I'll do my best to answer."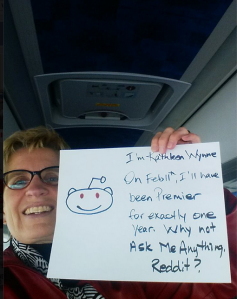 Some of the questions Ms. Wynne answered were serious, about minimum wage and job creation, and some were adorable, like "Are you training for any races this year? What's your favourite distance to run?" and "What's your favorite book and why?"
Ms. Wynne was unfortunately only able to answer ten questions within the one-hour time limit, and people posted some really angry-sounding comments. So like any polite, charmingly apologetic Canadian knows to do, Ms. Wynne promised to answer more questions over the course of the next week.
"Thanks so much for all your great questions. I was trying to get to all of them but it was not to be! Next time I'll be able to work faster, now that I know how it works. Thanks for taking part and look forward to next time!" she wrote in an update at the top of the AMA. "…I wish I could have answered more. How's this: I'll answer one of the questions I missed every day for the next week, so please keep the questions coming and be on the lookout for more answers."
Personally, we'd just love to know know Ms. Wynne's opinions on Justin Bieber's selfie app.
(h/t Toronto Sun)