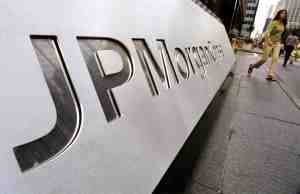 Even massive companies like JPMorgan aren't immune to the allure of Brooklyn.
The finance firm is transferring 2,000 employees over the Williamsburg Bridge to their new MetroTech space. 
The reason for the move is money. An anonymous source told Bloomberg that they decided to go after a review of the company's real estate holdings and a desire to trim expenses. The majority of the employees making the journey will come from 1 Chase Manhattan Plaza, a Manhattan sky-scraper formerly owned by JPMorgan. The company sold the building to Japan-based conglomerate Fosun International Limited in 2013.  
But space may be an issue. A compact 96 percent of Brooklyn's 15.5 million square feet of offices are already occupied, even before the move. Tucker Reed, president of the Downtown Brooklyn Partnership, sees the lack of space as a positive for the Brooklyn business market. 
"Were they to come, it would be a validation of our office market here," Mr. Reed told Bloomberg. "The only drawback, if you can call it that, would be the challenge it creates. It means there would be even less office for us to grow into. It makes our space dilemma a little more acute, but that's a good problem to have."
They will find a home at 3 and 4 MetroTech Center, two spaces owned by JPMorgan. The rest of the 16-acre campus owned by Forest City Ratner Companies primarily houses tech-based companies like Makerbot, a developer of three-dimensional printers. 
JPMorgan's new technology-heavy neighbors are part of the reason Brooklyn has become a hot-spot for businesses both new and established. 
"Downtown Brooklyn has now become a very diverse ecosystem of varied companies that are more reflective of all of Brooklyn and all of New York City," Ali Esmaeilzadeh, vice president of commercial development and leasing at Forest City Ratner, told Bloomberg. "There's still the presence of government and back-office, there's also a surge in technology-based firms, entrepreneurial-type companies."
The hefty transfer has already begun, with employees being moved as early as December. Bloomberg reports that a smaller, unluckier group of JPMorgan staff will also be transferred from their former skyscraper. This group will find a new home in, of all places, Jersey City.