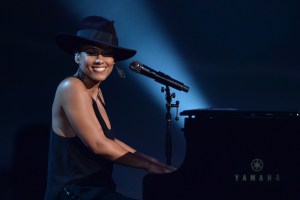 Gov. Andrew Cuomo may want an Empire State of universal prekindergarten, but a few superstars would like him to listen to the mayor of the concrete jungle.
A coalition of big-name female entertainers, including Alicia Keys, Rosie O'Donnell and Sarah Jessica Parker, have lent their names to Mayor Bill de Blasio's campaign to secure a tax hike to fund universal pre-K, the de Blasio-affiliated UPKNYC campaign announced today.
"Our children are everything! Our choices now determine their future and ours – that's why we need pre-k and after-school programs for all New York City's kids. I'm proud to join so many amazing women and support New York City's plan to make a smart investment in our children," said Ms. Keys, who famously sang a song about New York called "Empire State of Mind."
The celebrities are also joined by children's activist Marian Wright Edelman, comedian Kathy Najimy, actress Rosie Perez, women's rights activist Gloria Steinem and Vogue editor Anna Wintour.
UPKNYC, a nonprofit with exceptionally strong ties to Mr. de Blasio, has been rounding up big names, petition signatures and even hosting town halls with the purpose of persuading state legislators and Mr. Cuomo to support Mr. de Blasio's tax hike plan. The city must seek permission from Albany to raises its income taxes and Mr. Cuomo, along with a top Republican in the State Senate, have dismissed the tax component of the proposal.
Instead, Mr. Cuomo is backing a plan to fund pre-K statewide, which he argues is more fair than a city-based program. Mr. de Blasio has contended that only a dedicated funding stream, like that from a new tax, can adequately fund universal pre-K.
For today at least, the celebrities are siding with the mayor.
"New York City's tax plan is a smart, fair way to make a real investment in New York City's children and families, and it's something we should all get behind," added Ms. Parker, the Sex and the City star. "I'm honored to stand with so many New York City women to support this plan."