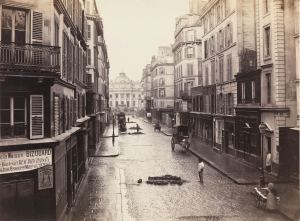 Walking around Greenwich Village, Williamsburg or even Crown Heights, you would be forgiven for feeling that the vertiginous pace of urban transformation in New York is unprecedented. But Paris during the era of Napoleon III was even more dramatically transformed through the vast eminent domain project known as Haussmannization, and Charles Marville, an enigmatic photographer, was charged with documenting those changes. A long-awaited show at the Met, curated by the National Gallery's Sarah Kennel, is devoted to the legacy of one of the least-studied of 19th-century French photographers. The results are stunning.
Marville was a native Parisian wielding a new technology and a self-invented name (his real last name was Bossu, or "hunchback"—he changed it the year Victor Hugo published The Hunchback of Notre-Dame). He was a modern, and new, kind of man. He picked up a camera just 12 years after the official invention of photography—no one was sure what should or could be done with the new medium. Marville's rare, earliest photos are on display, arty experiments you might expect of the failed painting student he was: pretty, salted paper prints of moody portraits. He quickly moved on to photographing Gothic architecture; there are incredible images of the roof of Notre-Dame Cathedral. But his real strength lies in his images of old Paris, some 425 in all, that he took between 1858 and 1871.
Marville's photographs of Paris are crystal-clear documents of a now-vanished city. In one, of leather tanneries next to the now-buried Bièvre River, you can make out the whiskers of a white cat preening on a sunlit roof. Horses stamp and blur, wet cobblestones gleam, and a tiny poster touts the novelty of retractable umbrellas. The albumen silver prints—all, incredibly, printed by Marville himself from the new technology of wet plate glass negatives, most in the 1870s— are all lucid detail and glowing light. Marville was an incredible printer, producing true black-blacks and creamy eggshell whites and bringing seemingly infinite, informative depth to his scenes. You can count every brick on a city street and read the text of a long-gone newspaper.
There is the old market the Halles before demolition, rustic houses with walled gardens and the long-since-vanished little neighborhoods that gave rise to the sweeping avenues of contemporary Paris. (Haussmannization, the urban planning project named for Baron Haussmann, was meant to modernize and sanitize the city but also break up traditionally left-leaning working-class neighborhoods known for their anti-government activities). Another room shows Marville's photos of the innovations of the day— public urinals, gas street lamps, newspaper kiosks—all of them gleaming beacons of modernity.
No longer trying to be art, Marville's photos achieve so much more. They became a photographic archive. (Eugène Atget would do this a half-century later, and at the Met, a nice show hung next to the Marville exhibition— 'Paris as Muse: Photography, 1840s-1930s'—makes this point). In the end, Marville's images helped define and anticipate what photos would become. His interest in precision, architecture and landscape show an urge to document and reveal. (The show also makes a case for Marville as a sentimental storyteller, but his early romantic and late moralistic images are less captivating than his pure documentary work). August Sander, Walker Evans, Robert Frank, and Bernd and Hilla Becher, among many others, have created photographs that owe much to Marville's clear-eyed vision. Instagramming every corner of gentrifying Brooklyn, we are walking in his footsteps.
(Through May 4, 2014)