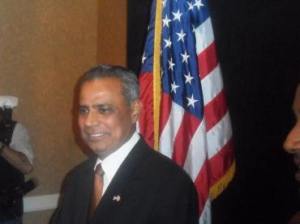 Assemblyman Upendra Chivukula (D-17) is making a play for the congressional seat slated to be vacated by U.S. Rep. Rush Holt (D-12), the lawmaker announced Wednesday.
"I'm in!" reads the subject line of Chivukula 's email announcing his intention to run. The state lawmaker was one of nearly a dozen officials who said Tuesday they are interested in mounting a campaign.
Chivukula joins fellow Democrat state Sen. Linda Greenstein among the Democrats committed to vying for the seat.
"I wish Representative Holt the very best as he embarks on a new challenge," Chivukula said in the statement.
"With every ending presents a new opportunity and it is with that in mind that I am formally announcing my candidacy for the United States House of Representatives in the 12th Congressional district," he said. "Over the coming days, weeks and months I look forward to discussing the issues that are most important to the residents of the 12th District. I am excited for the journey ahead and look forward to bringing your voices to Washington."