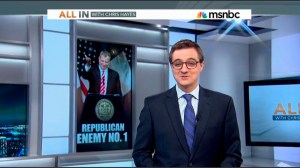 Step aside Barack Obama, there's a new "Republican Enemy No. 1" in town–at least according to MSNBC's Chris Hayes.
The All In host yesterday gave Bill de Blasio the new title, which was prominently affixed on an image of the Democratic mayor and was displayed beneath him as he spoke during an interview. Later, the text beneath Mr. de Blasio declared: "PROGRESS, NY."
Before Mr. de Blasio came on the program, Mr. Hayes played a montage of conservative pundits and politicians castigating the proudly liberal pol. ("I call him Comrade Bill de Blasio," quipped one.)
"Joining me now to outline his next battle plan–the terrifying, unceasing class war he's waging against job creators–is none other than New York City Mayor Bill de Blasio," Mr. Hayes said to introduce the mayor. Mr. de Blasio laughed.
Mr. Hayes' praise for Mr. de Blasio is unsurprising. When he hosted the weekend show Up, the MSNBC host repeatedly skewered "New York's supposedly Democratic Governor" Andrew Cuomo for allegedly undermining progressive priorities.
But last night's show wasn't a complete love-fest. At the end of the interview, Mr. Hayes appeared skeptical of Mr. de Blasio's claim that "City Hall will always be open to AIPAC," the prominent pro-Israel lobbying organization.
"Is that really your job? Is that your job description?" inquired Mr. Hayes.
"I said something that was personal. I said something about my belief that we have to defend the state of Israel," Mr. de Blasio replied with ease. "I think it's also a matter of protecting democracy. I think Israel's stance as a pluralistic society deserves respect and it's been under attack. And I think it is our job to support it."
Watch both segments below: