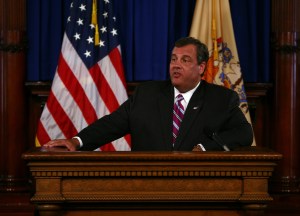 Gov. Chris Christie doubled down Monday night on his assertion he knew nothing about the lane closures on the George Washington Bridge until reading about it in the Wall Street Journal.
The governor, speaking on the 101.5 FM's monthly radio program Ask the Governor, said he had "no knowledge" of the lane closures, gave "no authorization" and had "no planning" in the matter.
"I had nothing to do with this," said Christie, speaking about the so-called Bridgegate controversy for the first time since holding a two-hour-long news conference on Jan. 9.
Christie said he first read about the lane closures in the Wall Street Journal when the newspaper reported on an email the Port Authority's executive director, Patrick Foye, sent to fellow authority officials demanding the lanes be reopened.
The statement comes after an attorney for David Wildstein, the former authority official accused of being the person who directed workers to close the lanes, suggested evidence exists that proves Christie knew about the lane closures when they were happening.
"Did I know about it?" Christie asked. "The answer is still the same. It's still unequivocally no."
Christie asserted he knew nothing about the traffic until he read about Foye's email.
"I didn't know about traffic," responded Christie later in the show when a caller asked why he inquired about the traffic on the days the tolls booths were closed.
"As soon as I knew there was some issue here I asked my staff to get to the Port Authority and find out what was going on," he said.