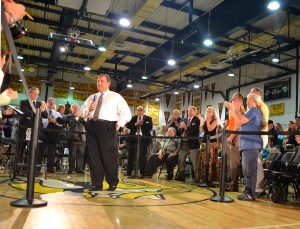 STIRLING – Gov. Chris Christie wasted little time in taking aim at pollsters during his latest town hall event just as a recent poll found the governor's job approval rating is plummeting amid the ongoing George Washington Bridge controversy.
The governor started the event discussing the weather, telling residents on another snowy day in the state that there are people in two professions who continue to get paid despite getting it wrong time after time.
Meteorologists? Of course, he said.
But according to New Jersey's governor, there's another group of workers in the same pool: Pollsters.
"They don't ever have to have it right," Christie said to laughs from the crowd.
The statement came after a recent Monmouth University/Asbury Park Press Poll found Christie's job approval rating dropped 20 points over the past year. In addition to growing suspicion of his involvement in the toll lane closures, New Jerseyans grade Christie's handling of Superstorm Sandy recovery much less positively than they did when he was running for re-election.
Currently, Gov. Christie's job rating stands at 50 percent approve to 44 percent disapprove among New Jersey residents and 49 percent approve to 46 percent disapprove among the state's registered voters. His approval numbers have dropped 9 points since the January Monmouth Poll which was taken just days after the state first learned that it was "time for some traffic problems in Fort Lee."